Helen G. and William F. Langevin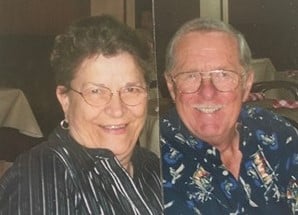 Date of Passing:
June 6, 2022
Langevin, Helen G., 85, formerly of Pinecrest Drive, Riverside, died peacefully on June 9, 2022 at the Riverview Nursing Home, Coventry. She was the wife of the late William F. Langevin.
Born in Bloomfield, CT, a daughter of the late Edward and Louise (Avery) Gutekenst, she was a lifelong resident of Riverside and wintered in Seabring, FL.
Helen enjoyed painting, arts and crafts, crocheting and spending time with her loving family.
Her husband William F. Langevin, 83, passed away on Tuesday January 19, 2021 in Sebring, FL.
Born on September 13, 1937 in Providence, he was a son of the late George Daniel and Mary Langevin.
William worked in the automotive industry doing auto body work.
He was a member of the Riverside Knights of Columbus.
They are survived by two sons, John F. Langevin and his wife Karen of Warwick and Michael G. Langevin and his wife Karen of Pawtucket; five grandchildren and three great grandchildren.
Mr. Langevin is survived by a brother, Arthur Langevin of New Hampshire. Mrs. Langevin was the sister of the late Margaret Creighton and Karen Buchala.
A funeral service for Mr. and Mrs. Langevin will be held on Saturday June 18, 2022 in the W. RAYMOND WATSON FUNERAL HOME, 350 Willett Avenue, Riverside at 3 p.m. Calling hours are Saturday afternoon from 1-3 p.m. Flowers are respectfully omitted. Contributions in Mr. and Mrs. Langevin's memory to March of Dimes, Donation Processing Center, P.O Box 18819, Atlanta, GA 31126 would be deeply appreciated.