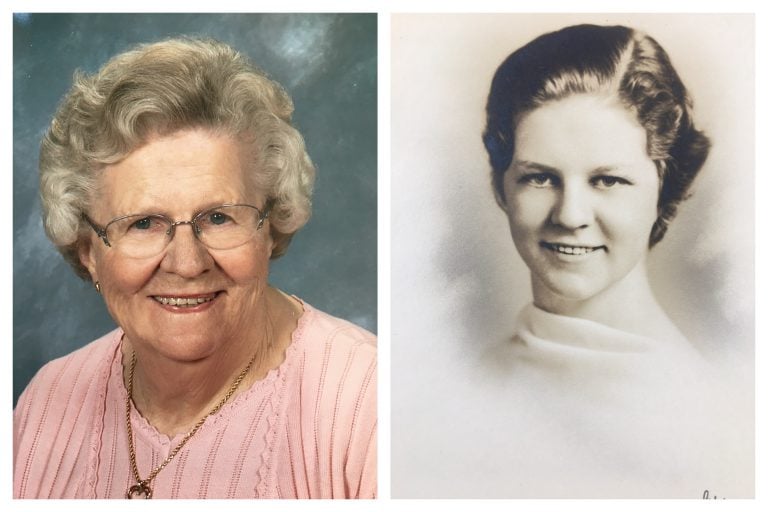 Date of Passing:
November 15, 2017
Helen M. Oliver (Carlson), age 99, passed peacefully on Wednesday, November 15, 2017 at Linn Health Care Center in East Providence, RI. She had been part of that caring community for 10+ years.
Helen was born in Seekonk, MA to Carl and Agnes (Polin) Carlson on March 24, 1918. She was one of ten children. She graduated from Hope High School and after raising a family, fulfilled her dream of becoming an LPN.
Helen was the widow of Edward J. Oliver (Dec. 12/26/1999), they were married for 59 years. She was the mother of the late Michael Oliver and is survived by three daughters (Marjorie Ferrin, Barbara Custodio and Bette Oliver), two sons (Carl Oliver and Roland Oliver), twelve grandchildren, eighteen great-grandchildren, and three great-great-grandchildren. Needless to say, Helen was a family woman and will be missed by all.
Her never-ending sense of humor (that she wasn't even aware of) touched all and was a sure bet to brighten everyone's day. From her infamous "dry rain" in Seattle to "good MacDonalds" in south county, she would have made the most serious of us break out in gut-wrenching laughter. Perhaps her "sweet" demeanor was the result of ending every meal with a delicious Swedish inspired dessert. Helen will also be remembered for her deep faith and her active participation in Barrington Baptist Church and St. John's Episcopal Church also in Barrington.
A private burial will be held in Lakeside Cemetery, Rumford. In lieu of flowers, donations in her name can be made to the Linn Health Care Center, 30 Alexander Avenue, East Providence, RI 02914.
Your life was a blessing, your memory a treasure. You are loved beyond words and missed beyond measure.