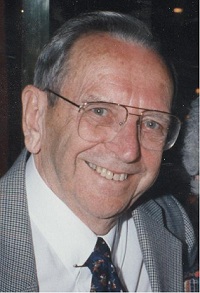 Date of Passing:
August 1, 2012
Burke, Henry, T., 'Hank' 88, of Linden Road, Barrington, died peacefully on Wednesday August 1, 2012 at Home and Hospice Care of Rhode Island. He was the loving husband of Jeanne (Bourneuf) Burke of Barrington, and the father of Stephen Burke (Molly Therrien) of Wakefield, Virginia Burke (David Baum) of Barrington, Michael Burke of East Rockaway, New York, Mary Roth (Steven) of Wakefield, Kevin Burke (Barbara) of East Kinnelon, New Jersey, Patricia Hansen (William) of Johns Creek, Georgia, and Kathleen Buckley (Stephen) of Barrington. He leaves grandchildren Christopher Burke, Brant Truax, Emily Axton, Brian Burke, Daniel Burke, Christopher Baum, Andrew Baum, Nicole Boffo, Joseph Roth, Eli Roth, Maia Roth, Michael Burke, Katelyn Burke, Sean Hansen, Nora Hansen, Grace Hansen, Matthew Buckley and TJ Buckley.
Hank was a native of Weymouth, Massachusetts and a graduate of Boston College, class of 1948. He served his country in the South Pacific in World War II as a member of the United States Army. Hank received both his Doctorate of Chemistry and Law at Fordham University, New York and is a retired member of the New York State Bar. As resident of Garden City, New York he was well known as a parishioner at St. Joseph's Church and a youth soccer coach with the Garden City Centennials.
He retired to Barrington in 2000 and became a communicant at St. Luke's Roman Catholic Church. He enjoyed fellowship at the Anawam Club and the Riverside VFW Post #10.
His funeral will be held on Tuesday August 7, 2012 from the W. RAYMOND WATSON FUNERAL HOME, 350 Willett Avenue, Riverside at 8:45 am with a Mass of Christian Burial in St. Luke Church, Washington Road, Barrington at 10 am. Graveside burial with Military Honors will follow in Gate of Heaven Cemetery.
Calling hours are Monday 4-7 pm. Flowers are respectfully omitted. Contributions in Henry's memory to St. Luke Church, 108 Washington Road, Barrington, RI, 02806 or Boston College Scholarship Fund, Cardigan Alumni Center in memory of Henry T. Burke, Alumni Center, 140 Commonwealth Avenue, Chestnut Hill, MA, 02467 would be deeply appreciated.