Honorable Donald Francis Shea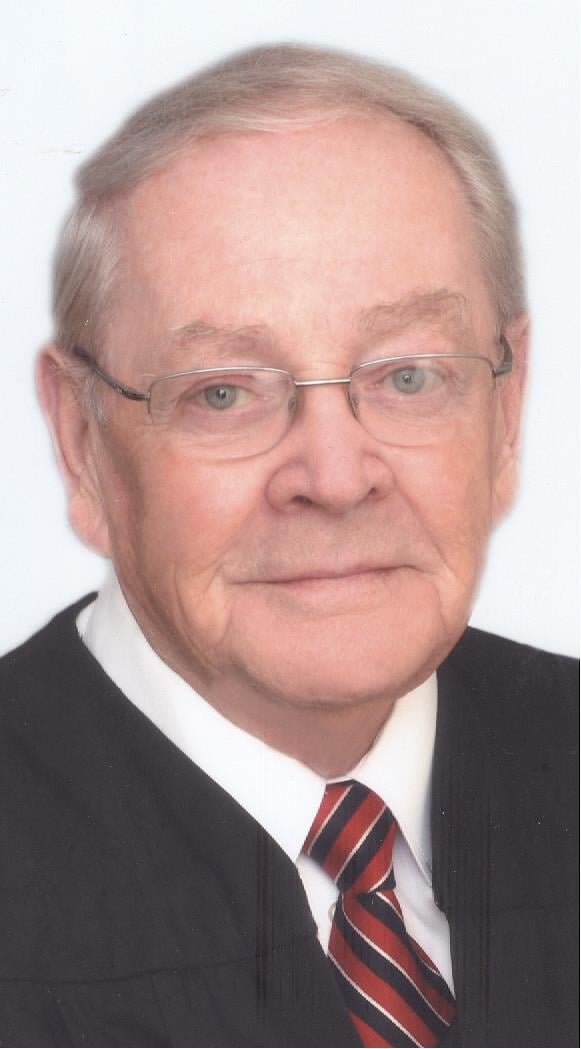 Date of Passing:
August 14, 2019
SHEA, DONALD FRANCIS, Retired Associate Justice of the Rhode Island Supreme Court, 93, of Providence died on Wednesday, August 14, 2019.
Born in Pawtucket, Rhode Island to the late Edward and Lucy (Read) Shea, on September 14, 1925, he grew up in Valley Falls, RI. He was predeceased by his siblings, Leonard E. Shea, Natalie M. Blais, and Daniel J. Shea.
Justice Shea lived a life of service, enlisting in the Navy in 1943 upon completing high school. He served in the European and Pacific theatres during WW II, participating in both the Normandy and Okinawa invasions. After discharge from the Navy, he earned his BA from Providence College in 1950. He and his bride, Ursula Rafferty, moved to Washington DC where Justice Shea pursued his law degree at Georgetown University. He practiced law in the DC area before returning to Rhode Island in the aftermath of Hurricane Carol.
Justice Shea had the privilege of serving in all three branches of state government. He was elected to the House of Representatives in 1960 representing Riverside (the first Democrat to serve from the district in 40 years) where he and Ursula raised their family. After eight years in the House, he helped elect Governor Frank Licht and served as his Executive Assistant. In 1972,
Justice Shea began his tenure as a jurist on the Superior Court and was elevated to the Supreme Court in 1981. His service to the court did not end upon retirement in 1995, continuing for a decade to mediate cases on appeal. He loved the law, and especially the duty he had to mentor young lawyers throughout his career.
His service was not limited to his public work; he spread his interminable kindness and compassion as a volunteer with hospice patients and their families, with the Society of St. Vincent de Paul, and as an advocate for the disabled with the Summit Club of East Providence. His Catholic faith anchored everything he did. He was instrumental with his friend, colleague, and car pool mate Justice Weisberger in founding the law school at Roger Williams; served on the President's Council at Providence College; and conducted mediations for conflict resolution.
He was predeceased by his wife of 65 years, Ursula Rafferty Shea and is survived by his five children: Donald E. Shea and his wife Meredith of Windham, CT; Michaela Shea McInnis of Providence; Christopher J. Shea and his wife Brenda of Carlsbad, CA; Sara Shea McConnell and her husband Jack of Providence; and Ellen Shea Reinhardt and her husband Frederick of Providence. Justice Shea is survived by 11 grandchildren: Michael and his wife Rocio (Nunez), and Meghan Shea; Julia and Stephanie McInnis; Caitlin Shea; Catherine, Margaret and John McConnell; Jessica, Emily and her husband Morgan (Dorn), and Samuel Reinhardt; and two great- grand children, Henry and Meadowlark. He is survived by many loving nieces and nephews.
His funeral will be held on Tuesday, August 20, 2019 from the W. RAYMOND WATSON FUNERAL HOME, 350 Willett Ave., East Providence, RI at 8:30 AM with a Mass of Christian Burial at 10:00 am at St. Sebastian's Church, 67 Cole Ave., Providence, RI. Burial will be in Gate of Heaven Cemetery, East Providence, RI.
Calling hours are Monday, August 19, 2019 from 3-7 PM. In lieu of flowers, the family requests memorial donations in Justice Shea's name can be made to: Public Interest Loan Repayment Assistance Program, Office of the Dean, Roger Williams University School of Law, Ten Metacom Ave., Bristol, RI 02809 or to Crossroads Rhode Island, 160 Broad Street, Providence, RI 02903.