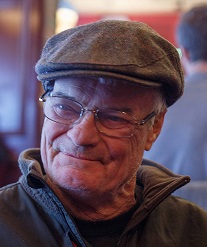 Date of Passing:
February 6, 2014
Reade, Howard, C., Jr., 63, of Francis Street, died on February 6, 2014 at the Lawnwood Regional Medical Center in Fort Pierce, FL. He was the husband of the late Margaret 'Peggie' (Hoyt) Reade.
Born in the Bronx, NY, a son of the late Howard C. and Gertrude (Fabricius) Reade, he lived in Barrington for 32 years. In 1972 he graduated from Bryant College.
Howie was an agent for Liberty Mutual Insurance Co. and Troy, Pires & Allen Insurance for a combined 37 years. He was a communicant of St. Luke's Church.
Howie was a coach for youth soccer, Little League baseball and softball in Barrington. An avid golfer, he was a member of Montaup Country Club, where in 1996 he shot a hole in one.
Howie had an audacious sense of humor, an infectious laugh, and self-proclaimed dance and karaoke talents. He enjoyed nothing more than spoiling his grandson, who he loved beyond words. His favorite past times were gathering with friends to watch the New England Patriots and traveling to ball games at Yankee Stadium with his kids.
Howie's family would like to thank the many friends who provided him with love, support and assistance.
He is survived by a daughter, Shana E. Reade; a son, Kevin H. Reade, a daughter-in-law, Bethany Seibert Reade, and a grandson, Hudson Hoyt Reade. He is also survived by his siblings Ellen King, Thomas Reade and Nancy Ladonne.
Relatives and friends are invited to attend a Mass of Christian Burial on Thursday, February 13, 2014 in St. Luke's Church, Washington Road, Barrington at 10 am. Burial will be held on Friday, February 14, 2014 in St. Michael's Cemetery, Stratford Avenue, Stratford, CT at noon. Calling hours are respectfully omitted. Memorial donations may be made to The Neuropathy Association www.neuropathy.org.