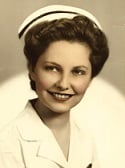 Date of Passing:
March 9, 2016
Connors, Irene, M., 91, formerly of 9th Street, East Providence, died peacefully on March 9, 2016 at the Sun Coast Hospice Center, Palm Harbor, FL.
Born in Springfield, MA, a daughter of the late Michael J. and Marie P. (Cote) Connors, she lived in East Providence most of her life.
Miss Connors graduated from Sacred Heart School and Bay View Academy. She was a Registered Nurse for over 40 years and worked at Jane Brown Memorial Hospital for 30 years. She then retired to Palm Harbor, Fl.
She is survived by two brothers, Henry J. Connors and Edward M. Connors. She was the sister of the late James E. and Richard F. Connors.
Her funeral will be held on Wednesday March 16, 2016 from the W. RAYMOND WATSON FUNERAL HOME, 350 Willett Avenue, Riverside at 7:45 a.m. with a Mass of Christian Burial in St. Brendan Church, Turner Avenue, Riverside at 9 a.m. Burial will follow in Gate of Heaven Cemetery. Calling hours are Tuesday 4-7 p.m.