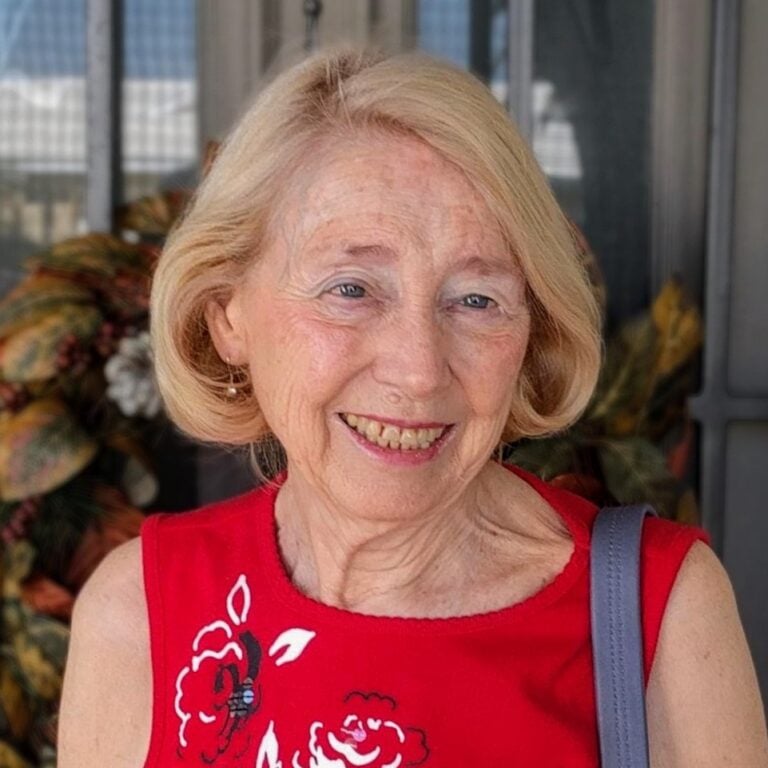 Date of Passing:
October 29, 2021
Jacquelynn Sue Napoli (Gardner), 85, of Wingate Residences, Blackstone Blvd., Providence, formerly of Venice, Florida, died peacefully on October 29, 2021. She was born in Indianapolis, Indiana on August 22,1936 to John Leo Gardner and Vivian Lenore Gardner (Likens) Her childhood was full of family who enjoyed laughter, song and stories. She attended St. Agnes Academy and left Indiana to attend the University of Miami in Florida where she majored in Interior Design and joined the Kappa Kappa Gamma Sorority. There she met her future husband, Donald Jay Napoli, who had just returned from serving in the military. They married in 1956 and with the birth of two precious daughters, Carolynn Sue and Barbara Ann, they began their family.
Jacque was a talented and creative wife, mother and homemaker. She decorated with warmth and elegance, prepared gourmet meals and entertained family and dear friends. Her children were delighted to have her crochet doll clothes, sew matching dresses and costumes, hear her read and sing to them at bedtime, and ice skate with them on frozen ponds. Her jokes and comedic timing were precise and she never missed a laugh! She was an excellent accordionist, and many times surprised people by picking up a string instrument or sitting at a piano and playing a song by ear. Jacque played tennis and racquetball, bowled in leagues and participated in bridge clubs together with Don. She had a travel bug and loved cruises and international travel with her husband to destinations from Europe to Alaska. She was an avid reader who also enjoyed old films and Public Television.
When she and Don became empty nesters Jacque worked in the fashion industry for twenty years as a popular fashion stylist and sales associate at boutiques near Chappaqua, NY and in Venice, FL where she was appreciated by her customers and friends. In her later life, Jacque was passionate about her kitties who she pampered and trained to act like people! Her doting children and grandchildren visited her often until the months before COVID 19.
Jacque was a devoted wife and dance partner to her late husband, Donald Jay Napoli, who died nine months before she passed away. She leaves behind her loving daughters, Carolynn Sue Napoli Ceccopieri (Fernando) of Loveland, Ohio and Barbara Ann Napoli Wallace (Jack) of Riverside, RI and three affectionate grandsons, Nicholas Leimbach, Oliver Ceccopieri and Christopher Ceccopieri, and her two sisters, Shirley Jackson of Texas and Sandra Herman (Dean) of PA, all of whom she loved and held close to her heart.
Her Funeral Services will be private.
The family requests donations in lieu of flowers be sent to HopeHealth Hospice, 1085 North Main St. Providence, RI 02904.