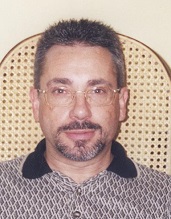 Date of Passing:
April 21, 2015
Pannone, James, 57, of Rehoboth, MA, died at home on April 21, 2015 surrounded by his loving family. He was the beloved husband of 'Lisa' Elizabeth Andrews-Pannone.
Born in Pawtucket, a son of the late Ralph and Anna E. (St. Jean) Pannone, he lived in Rehoboth, MA for 10 years.
James loved the Patriots and was a true New England sports fan. He also loved animals and rescued and gave homes to many over the years.
Besides his wife, he is survived by three sisters, Donna DaShone of CA, Lynne Haworth of Rumford and Joyce Lizotte and her husband Mark of Cumberland; a brother, Ralph Pannone and his wife Cindy of Seekonk, MA; a devoted sister-in-law, Julie Sarri of Pawtuket; a nephew, Ryan Selley, also many other nieces and nephews and best friends, Carol Vinniti of Seekonk, MA and Robert Pilz of Pawtucket, all of whom helped us survive the last two years with their unflagging devotion.
His funeral service will be held in the W. RAYMOND WATSON FUNERAL HOME, 350 Willett Avenue, Riverside on Saturday April 25, 2015 at 10 a.m. Burial will follow in Rehoboth Village Cemetery, Bay State Road, Rehoboth, MA. Calling hours are Friday 5-8 p.m. Contributions in James's memory to the RISPCA, 186 Amaral Street, Riverside, RI, 02915 or Cholangiocarcinoma Foundation, would be deeply appreciated.