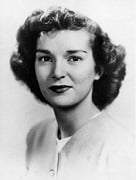 Date of Passing:
May 26, 2016
Jane Frances Lemire (ne Schroth), a longtime resident of Warwick, RI, died after a short illness on May 26, 2016, in Wellesley, Mass. She was 85 years old.
She is survived by her daughter and son-in-law, Mary and John Campion of Westwood, Mass.; her son and daughter-in-law Charles and Susan Lemire of Naples, Florida; and her son Tim Lemire of Providence, RI. Jane is also survived by grandchildren Peter and Stephen Campion, Hayden and Harrison Lemire, Claire Lemire, and Li Fifer.
Jane is predeceased by her husband, Henry C. Lemire. The couple moved to Warwick, RI, in 1965, when Henry Lemire began work as Director of Special Services at the Warwick School Department. Pursuant to her husband's death in 2001, Jane moved to Barrington, RI, where she lived until 2011. For the past several years, Jane had been a guest of the Elizabeth Seton Residence in Wellesley, MA.
Jane Lemire was born in 1930 in Quincy, Mass., to Walter and Elizabeth Schroth. She was the oldest of four children, including the late Walter Schroth, Jr., the late Edward Schroth, and Paul Schroth, currently of Michigan.
In the 1950s, Jane worked a secretary at Walter Baker Chocolate Company of Dorchester, Mass. The company mascot, then as now, is 'La Belle Chocolatiere', a maid bearing a tray of hot chocolate. Jane made many public appearances as this mascot, handing out chocolate samples in supermarkets and riding in Boston's Dorchester Day Parade. Jane has her own chapter in the 2009 book The Baker Chocolate Company: A Sweet History by Anthony Sammarco.
Jane, known to her grandchildren as 'Mimi', was much beloved by her family and known for her love of birds, gardening, and the ocean.
In lieu of flowers, please make memorial donations to the Lemire Family Scholarship, Nativity School of Worcester, 67 Lincoln St., Worcester, MA 01605. The Nativity School of Worcester is an independent Jesuit middle school that provides an all-scholarship education to boys of all faiths. The Lemire Family Scholarship gives a deserving seventh grade boy a scholarship to the Holy Cross College summer basketball clinic.
Her funeral will be held on Wednesday June 1, 2016 from the W. RAYMOND WATSON FUNERAL HOME, 350 Willett Avenue, Riverside at 10 a.m. with a Mass of Christian Burial in St. Luke Church, Washington Road, Barrington at 11 a.m. Burial will follow in Gate of Heaven Cemetery. Calling hours are Tuesday 7-9 p.m.