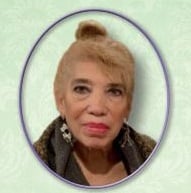 Date of Passing:
January 7, 2021
Williams, Jane Renee, 67, of Charlestown, formerly of Providence, passed away peacefully at Westerly Hospital, Westerly on Thursday, January 7, 2021."Renee" as she was affectionately Known was born in Providence, Rhode Island, a daughter of the late Paul D. and Alice G. (Watson) Williams.
Renee was a graduate of Hope High School, Providence,class of 1971 and received her Bachelor's Degree from Salve Regina University, Newport class of 1975.
Renee was a mortgage broker before she was diagnosis with her illness in 2008 leaving her unable to work.
There are calls in life that we answer, the call from Jesus her Lord and Savior to be a follower is one she answered at an early age. She was a woman of strong faith, and faithfully attended New Hope Chapel and Bible study with her friend Judy Russo.
She enjoyed traveling, especially to Tahiti, reading, cooking, dining out, shopping and the beach.
Anyone who knew Renee knows that she was a force to be reckoned with. She will always be remembered for her energetic personality, amazing charm and the smile of a movie star.
She is survived by two nephews, Paul D. Williams III of Johnston, RI and James Williams of Providence, RI, three nieces, Michele McCorn of Wichita, KS, Caroline and Cathleen Williams both of Providence, RI, several great nephews and nieces, cousins, Ruth Guy of Jamestown, RI, Carol Randolth – Brown of Brockton, MA and Jeanne Pratt of Dorchester, MA, a godchild, Tisha Almeida of East Providence, RI and a host of family and friends.
Relatives and friends are invited to a Memorial Service on Tuesday January 19, 2021 in New Hope Chapel, 80 Richmond Town House Rd, Carolina, Rhode Island at 11:30 a.m. A private burial will take place in Swan Point Cemetery, Providence. RI