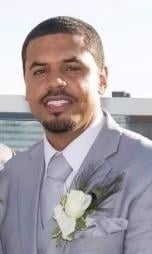 Date of Passing:
September 9, 2023
Santos, Jayar M., 45, of North Providence, passed away peacefully on September 9th, 2023 at Brigham and Women's Hospital surrounded by his loving family. He was the beloved husband to his high school sweetheart and best friend, Nicole "the little one" (Ramos) Santos.
Born in Providence, Rhode Island on November 7th, 1977. He was the beloved son of Frank Jr. "Chico" and Wilmette (Star) Santos
Jayar was a high school graduate of La Salle Academy. While attending La Salle, he was a member of the track, basketball, and football teams. Jayar went on to play NCAA Division 1 Football at Hofstra University, NY, and graduated with a bachelor's degree. Hofstra granted him a brotherhood with many cherished teammates that would last his lifetime.
He proudly worked at PVD Preparatory Charter School in Providence, where he held the position of Associate Dean of Students. Jayar's commitment to youth and public service went far beyond the classroom. He also was the Assistant Director at the Vincent Brown Recreation Center in Providence. Previously, he coached for the Moses Brown varsity football team, and was the head coach of Central Falls girls basketball team. He also was a former proud member of Providence Cobra's Track and Field Club and Mt. Hope Cowboys.
Jayar had a deep sense of social responsibility. He embraced the role of a community leader and selflessly dedicated his time to the youth. The welfare of children was of utmost importance to Jayar.
He was a devoted husband and father who was extremely family oriented. He genuinely loved bringing people together. His infectious smile paired with his fun spirit and laughter would fill a room.
Jayar undeniably leaves a legacy to be admired.
In addition to his wife and parents, he leaves behind his loving daughter, Najah Santos, and his son Jamier Freitas. He also leaves behind siblings: Marjorie Santos, Melissa Santos Llewellyn and husband Cordell, Tejae Santos, and Herman "Butch" Brown. He also leaves behind Godparents, Kelly Brown Reis, Robert Blue, and Greg Penelton and nieces, Katja Neves, Fallon Santos, Mila Santos and three nephews Bryce, Adren, Jaelin Llewellyn. In addition to, he also leaves behind beloved father and mother-in-law, Anthony and Hilda Correia, brother-in-law, Stefan Correia (Bre'Anna Metts- Nixon) ,sister-in-laws, Alexandria Correia (DaeShawn Beasley) and Breana Cabral and her spouse Taryl and brother-in-law, Troy Heaphy. He also leaves behind aunts, Dorreen Fortes and husband Joseph, Lysa Davis and husband Ronald, Joyce Pina Brown, and Michelle Mundy Cunningham.
He was the grandson of the late Frank Sr. and Virginia (Tavares) Santos, Maria (Barros) Hargraves, and the nephew of the late Diane Santos and Debra Santos-Barnes. He also leaves behind a host of many cousins and friends as well as his beloved dogs Mogie, late Madden and Debo.
His funeral service will be held on Saturday, September 16, 2023 in Our Lady of the Rosary Church, 21 Traverse Street, Providence at 1:00 p.m., Visitation is 12 noon- 1p.m.