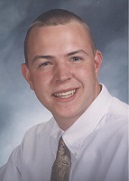 Date of Passing:
October 19, 2015
Kwolek, Jeffrey, A., 33, formerly of Seekonk, MA, died unexpectedly on October 19, 2015 in West Palm Beach, FL.
Born in Providence, a son of Ronald A. Kwolek and his wife Kathy (step-mother) of Barrington and Linda (Johnson) Mace and her husband Craig (step-father) of Seekonk, MA. Prior to living in Florida, he lived in Seekonk, MA for 2 years and Berkley, MA for 19 years.
Besides his parents, he is survived by a brother, Jason Kwolek and his wife Michelle of Seekonk, MA; a sister, Lisa Kwolek of Barrington; a niece, Angelina Toledo; his godson, Aaron Kwolek and many aunts, uncles and cousins.
A Memorial Service will be held in the Seekonk Congregational Church, 600 Fall River Avenue, Seekonk, MA on Friday evening November 6, 2015 at 7 p.m. Burial will be held in Santa Maria del Campo Cemetery, Upland Way, Barrington. Flowers are respectfully omitted.