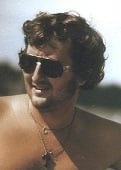 Date of Passing:
January 28, 2016
Marchand, John, D., Jr., 70, of Atria Bay Spring Village, Bay Spring Avenue, Barrington, died peacefully on January 28, 2016.
Born in Attleboro, MA, a son of the late John D. Marchand Sr. and Muriel (Phillips) Marchand, he lived in Barrington for 18 years.
Mr. Marchand was an estimator for the Coordinated Metals Inc. of New York City for 10 years.
John was a member of the Barrington V.F.W. A sports enthusiast, he was a devoted New England sports fan. He enjoyed reading about history.
Mr. Marchand was a United States Navy Seabees Veteran serving during the Vietnam era.
He is survived by a son, John D. Marchand III of Greenville; two daughters, Leigh A. Bears of New London, NH and Lori A. Marchand of Riverside; four sisters, Muriel Gordon of East Providence, Paula Kent of Middleboro, MA, Joanne Marchand of Barrington and Sharon Brown of Barrington and three grandchildren, Jake, Jenna and Ty.
His funeral service will be private. Burial will be held in the Rhode Island Veterans Memorial Cemetery, Exeter.