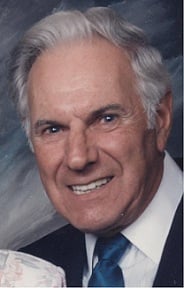 Date of Passing:
September 14, 2012
Anterni, John, J., 90, of Holland Avenue, Riverside, died unexpectedly on September 14, 2012. He was the husband of the late Eva M. (Boudreau) Anterni.
Born in Woonsocket, RI, a son of the late Louis and Maddalena (Bee) Anterni, he lived in Riverside for 58 years.
Mr. Anterni was the founder of Anco Tool & Die Co. Inc. in 1959 and later Anco Lures Inc.
John was a communicant of St. Brendan Church. He was a past coach, treasurer and sponsor of the Riverside Little League. He was a past board member of the Riverside Pop Warner Football teams. He was a member of the Riverside American Legion Post #10 and Destroyer Escort Sailor's Association.
John was an avid salt water fisherman and a member of the Rhode Island Salt Water Anglers. A sports enthusiast he was a devoted New York Yankees fan. He enjoyed gardening and bowling and was a former member of various Rhode Island Duckpin Bowling Leagues.
Mr. Anterni was a United States Navy Veteran serving during World War II.
He is survived by three daughters; Katherine L. Grady of Riverside, Elizabeth J. Anterni of Riverside and MaryLu Medeiros and her husband Roy of Riverside, two sons; John J. Anterni Jr. and his wife Cynthia of Barrington and Richard P. Anterni and his wife Bernadette of Lincoln, eight grandchildren; Jennifer Enos, Erin Grady, Jyllian Rogers, Jessica Anterni, Christopher Medeiros, Lauren Medeiros, Joseph Anterni and Jeffrey Pinheiro, three sisters, one brother and three great grandchildren. He was the father-in-law of the late George G. Grady.
His funeral will be held on Monday September 17, 2012 from the W. RAYMOND WATSON FUNERAL HOME, 350 Willett Avenue, Riverside at 8:45 am with a Mass of Christian Burial in St. Brendan Church, Turner Avenue, Riverside at 10 am. Burial will be held in Gate of Heaven Cemetery.
Calling hours are TODAY SUNDAY September 16 from 3-7 pm. Flowers are respectfully omitted. Contributions in in John's memory to St. Brendan Conference of St. Vincent de Paul, 60 Turner Avenue, Riverside, RI, 02915 would be deeply appreciated.