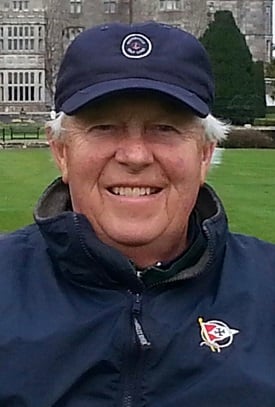 Date of Passing:
January 9, 2018
Deal, John R., (Pete), Jr., 75, passed away peacefully at his Barrington home on January 9, after a long and courageous fight with cancer. He was surrounded by his loving family, including his devoted wife of 55 years, Patricia (Patty) Deal. Born in Troy, NY, he was the son of the late John and Elinor Deal.
Pete grew up in Wellesley, MA, and graduated from Hebron Academy in 1961 and Gettysburg College in 1965. He enjoyed a successful career in insurance working for Mass Mutual; he was vice president at Starkweather and Shepley.
Most important to Pete was his wife, Patty. Pete deeply adored and respected Patty and their devotion to each other was evident. He was enormously proud of his daughters and his grandchildren. Always the hands-on dad, he taught Betsy and Sharon to ski and sail and cherished every opportunity to take them on an adventure or to coach one of their many sports teams. And, that commitment to his family extended to his four grandchildren, who were the light of his life. Olivia, Liam, Ruby, and Jack were used to having their papa cheer them on at lacrosse games, cross country meets, and providing unwavering encouragement and support.
But, his extended family and friends also played an important role in Pete's life, and he loved nothing more than orchestrating golfing trips to Ireland or planning vacation adventures to Europe. His friends will remember him as a talented party planner, whose remarkable spirit and contagious compassion loomed large. His special gifts were a warm and generous heart, a brilliant and unrestrained smile, optimistic outlook, and fierce passion for living.
A lifelong resident of Barrington, Pete was committed to public service and was a respected leader in the community. As president of the Barrington Jaycees in the 70's, he spearheaded the town's recycling program and sewer system project. He was also president of the Rhode Island Country Club and served on the boards of the Barrington Yacht Club, the Barrington YMCA, and the Greater Providence YMCA. Pete raised money for many organizations and charities including the Women's Center of Providence, United Way of Rhode Island, Barrington YMCA, Blithewold Mansion and Gardens, and the Barrington High School Boosters. He also organized golf tournament fundraisers for the Providence Center, Highlander Charter School, and Dana Farber.
Besides his wife, he is survived by his loving daughters, Betsy Warner of Barrington and Sharon Deal (partner Jaime) of Northampton, MA; grandchildren, Olivia, Liam, Ruby and Jack; his sister, Barbara Deal (partner Ann) of Bristol, VT; and his brother, Thomas Deal (wife Joanne) of Essex, CT.
Relatives and friends are invited to a celebration of his life on Tuesday, January 16, at 10 a.m. at St. John's Episcopal Church, 191 County Road, Barrington, RI. Calling hours are on Monday, January 15 from 4 to 7 p.m. at the W. Raymond Watson Funeral Home, 350 Willett Avenue in Riverside.
Flowers are respectfully omitted. Contributions in Pete's memory may be made to the Dana Farber Cancer Institute, 450 Brookline Avenue, Boston, MA, 02215 (memo line – Dr. Toni Choueiri, Research Fund); or to the Highlander Charter School, Development Office, 360 Market Street, Warren, RI, 02885.