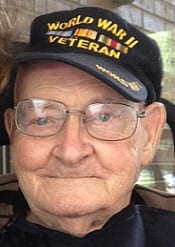 Date of Passing:
September 8, 2014
Joseph H. Tessar, 89, of Riverside, passed gently in his sleep on 8 September 2014 at the Old Soldiers Home in Bristol, R.I. He was born in New York City, son of the late John Tessar and his wife Emily (Schultz) Tessar. He served in the Navy during WW II. Mr. Tessar was predeceased by his loving wife of 62 years, Anne Leona(Nickerson)Tessar and was recently predeceased by his only sister, Eileen A. (Tessar) O'Sullivan of Houston, Texas on 2nd September 2014.
After serving our country, Mr. Tessar graduated from U.R.I., then Boston University where he earned a degree in law and later a doctorate in law. Mr. Tessar began his law career, with his wife as his assistant, in the late 50's and in 1960, he was sworn in before the Supreme Court of the United States. He ran for State Representative and later became a probate judge. His career spanned three decades.
Upon an early retirement due to health issues, Mr. Tessar filled his time with family activities, compiling a Tessar family genealogy, making several recordings of his recollections from his war years with his grandson-in-law, and combing yard sales. He relearned to play the accordion, as well as how to repair them, and finally decided to learn to use computers, allowing him to keep in touch with friends and family. He enjoyed having pets, particularly cats and some white rats inherited from his granddaughter.
The light of his last years was his great-granddaughter, Calico, born in 2010. He greatly enjoyed seeing her sing songs for him, dance, or just talk to him which she loved. He looked forward to her hugs and kisses. Great grandpa's face would light up as soon as he'd see her or hear her.
Mr. Tessar is survived by his daughter, Sandra Gibson and her husband Bruce of Rockland, MA; a granddaughter, Samantha Shuman and her husband Steven, and a beloved great granddaughter, Calico, all of Riverside, as well as several nieces and nephews.
In lieu of flowers, the family respectfully requests donations be made either to the Wounded Warrior Project (http://www.woundedwarriorproject.org/) or the Rhode Island ASPCA (http://www.rispca.com/).