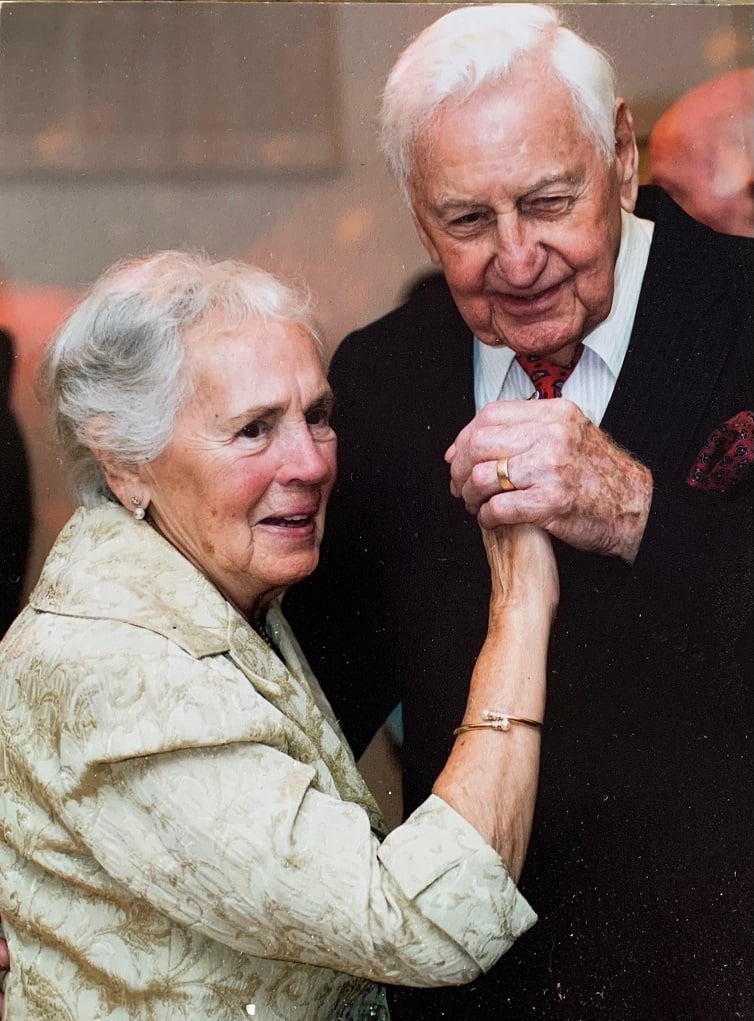 Date of Passing:
May 21, 2021
Crevier, Joseph Lucien ( Captain, East Providence Police Department, Retired ) 97 formerly of Riverside passed away on May 21, 2021. He was predeceased by his beloved Wife Edna R. ( Fratus ) Crevier of 69 years and 8 months.
Born in Providence, RI he was the son of Abel J. Crevier and Yvonne ( St. Cyr ) Crevier.
Crevier served in the US Navy from July 1942 to July 1948 and was a Gunner's Mate aboard the USS Rodman, DD 456 – DMS 21 from October 1942 until July 1948. While aboard the Rodman Crevier saw extensive action in both Europe and the Pacific.
The Rodman took part in the invasion of French West Africa in November 1942, the D-Day invasion at Omaha Beach, Normandy on June 6, 1944; the Shootout for the Port Cherbourg, France on June 25, 1944 and was the lead Destroyer in the invasion of Southern France on August 15, 1944 at St. Tropez, France.
In November 1944 the Rodman returned to the Boston Navy Yard to be converted to a Destroyer Mine Sweeper and transferred to the Pacific – Asiatic Fleet. While in Boston Crevier was granted a 10 day leave and married Edna on November 16, 1944.
In the Pacific the Rodman took part in the invasion of Okinawa in April of 1945. On April 6, 1945 while on mine sweeping duty the Rodman and her sister ship USS Emmons DD 457 – DMS 22 took part in one of the longest Naval vs. aerial battles of the war when they were attacked by 50 Kamikaze planes. The battle lasted for 2 1/2 hours. Rodman was credited with downing 13 Kamikaze planes but was stuck by 3 with 16 crew members killed in action and 22 wounded. The Emmons was credited with downing 15 Kamikazes but was stuck by 5 and due to extensive damage was lost in action with 60 killed and 77 wounded. US Marine fliers also took part in the battle and were credited with downing many of the Kamikaze planes.
After temporary repairs the Rodman was taken back to Charleston, SC to be repaired for the invasion of Japan. However, with the end of the war the Rodman saw no further action.
Crevier received the WWII Victory Medal; the Combat Action Ribbon with 6 Battle Stars; the US Navy Commendation medal; the Europe, Africa, Middle East Commemoration Medal with 4 Battle Stars; the Asiatic – Pacific Victory Medal with 2 Battle Stars; and The Legion of Honor from France for his duty to France during WWII.
Crevier was appointed to the East Providence Police force in March 1950 where he served in all divisions within the Department before retiring as Captain / Commander of Detectives in December 1985. He was an instructor in Criminal Investigation at the University of Rhode Island Criminalists School for 20 years and also at the RI Municipal Police Academy for 15 years.
He was a member and Past Commander of the American Legion, Post 10 Riverside for over 60 years; a life member of the VFW; a life member of the Tin Can Sailors of America and a member of the East Providence Police Beneficial Association for many years, serving as both President and Secretary.
In addition to seven Grandchildren and twelve Great Grandchildren, Crevier is survived by his three children, Marylou Gillen and her Husband John of Coventry, Mark Crevier and his Wife Sandy of Saunderstown and Marcia Ann Miller and her Husband Joe of Riverside.
He was predeceased by his Brothers Lizon Crevier of West Warwick, Norman Crevier of Riverside and his Sister Monica Matteson of Peeaukee, WI.
His funeral will be held from the W. RAYMOND WATSON FUNERAL HOME, 350 Willett Avenue, Riverside on Wednesday May 26, 2021 at 8:45 a.m. followed by a Mass of Christian Burial in St. Brendan Church, Turner Avenue, Riverside at 10 a.m. Burial with Military Honors will follow in the Rhode Island Veteran's Memorial Cemetery, Exeter. Calling hours are Tuesday 5-7 p.m.
In lieu of flowers donations to the East Providence Police Beneficial Association, 750 Waterman Ave, East Providence, RI 02914 would be appreciated.