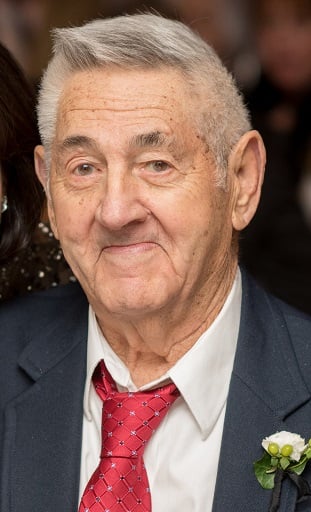 Date of Passing:
May 23, 2019
Benedetti, Joseph V.,93, of Barrington, passed away Thursday, May 23, 2019, surrounded by family. He was the husband of the late Mary (Tamer) Benedetti. Affectionately known as 'Zip', Mr. Benedetti was born on May 23, 1926, in the Maple Avenue neighborhood of Barrington. He was the son of the late Rocco and Victoria (Vocca) Benedetti.
He was a Combat Veteran of the Second World War, serving in the 42nd Infantry Division. Although rarely discussed, at 18 years old, he proudly participated in the U.S. Army's southern advance through Germany, liberation of Dachau and occupation of Austria. Upon returning from service, he began his career as a master carpenter with S.A. Andreozzi. The many homes he built included his own, which he built single handedly from the foundation up.
He was an excellent cook and gardener and expressed his love for family and friends through food. He was also an expert card player whose favorite card game was Pinochle. He was an avid New York Yankees fan since 1936. He was one the longest active members of the Barrington Democratic Social Club, a frequent visitor at Vic's Texaco station and spent many afternoons in his tomato garden. He loved spending time with family and friends, especially his grandchildren and great grandchildren.
Mr. Benedetti is survived by his children, Joseph Benedetti and his wife Elizabeth of Barrington and Carol Peck and her husband William of Barrington; his five grandchildren, Heather DeSisto Parris and her husband John, Thomas J. Peck and his wife Lauren, Bailor Benedetti, Robert Peck and Casey Palumbo and her husband Nicholas; as well as his great grandchildren John Joseph Peck and Matthew Joseph Palumbo. He was the brother of Betty Pellegrino of Bristol and the late John, Louise, Rocco, Thomas and Guerino Benedetti.
His services and burial will be private. Memorial contributions may be made to St. Jude Children's Research Hospital, 501 St. Jude Place, Memphis, TN 38105