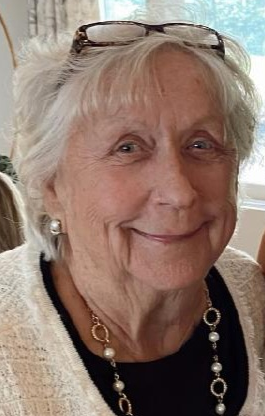 Date of Passing:
November 10, 2023
Judith Ann Hall, 80, of Hanley Farm Road, Warren, formerly of Barrington, died peacefully with her loving family by her side on Friday, November 10, 2023. She was the beloved wife and best friend of Donald R. Hall.
Born in Providence, RI, Judy was the daughter of the late Raymond and Mary (Mainey) White.
Judy, the ultimate homemaker and matriarch, was funny and fun-loving, kind and generous. Above everything else she loved and lived for her five children and eleven grandchildren. Her expressions of this love to her husband and family were endless. Her passion was in creating a home that was always welcoming, warm, and beautiful.
Judy's continual love and support created a foundation for her children to spring from, to be the best they could be in their relationships, friendships, and careers. The outcome is four long married children and eleven grandchildren who are on positive paths, schooled by her along with their parents, in the same values.
She was a devout Catholic and a life-long parishioner of St. Luke's Church in Barrington.
Judy leaves behind her husband of 59 years, her children and their spouses, Donna Curry (Michael) of Newport, Thomas (Debra) of Barrington, Timothy (Nicole) of Barrington, and Sarah Mulqueen (Jeffrey) of Bristol. Judy was Mimi and Mim to her grandchildren Ryann (fiancé, Nate), Mac, Owen, T.J, Brendan, Declan, Morgan, Julia, Griffin, Meredith and Cormac.
Judith also leaves behind her siblings, Harold White (Elena), Richard White (Margie) and Mary Ann; two sisters-in-law, Nancy Donovan of Bradenton, Fl. and Barbara Stone of Orlando, Fl. as well as many nieces and nephews.
She was predeceased by her parents, her siblings Paul White, Jane Green and Gerald White and her son John Francis Hall.
Her funeral will be held on Thursday November 16, 2023 from the W. RAYMOND WATSON FUNERAL HOME, 350 Willett Avenue, Riverside at 8:45 AM. A Mass of Christian Burial will follow in St. Luke's Church, Washington Road, Barrington at 10:00 AM. Burial will follow in Forest Chapel Cemetery, Nayatt Road Barrington.
Calling hours are Wednesday, November 15, 2023 from 4:00-7:00 PM. In lieu of flowers contributions in Judith's memory to the Community Scholarship Fund of Barrington, P.O. Box 300 Barrington, RI 02806, donation in the name of John F. Hall would be deeply appreciated.https://csfofbarrington.com