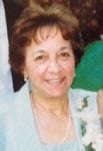 Date of Passing:
January 29, 2017
Coelho, Julia (Pina), of New Port Richey, Florida and a former resident of East Providence, died on Sunday, January 29, 2017 at the Morton Rehabilitation Center in New Port Richey, Florida.
She was the beloved wife of the late Peter J. Coelho. They had been married for 53 years.
Born in Norwalk, Connecticut on October 3, 1927, she was the daughter of the late Boaventura and Anna (DaCosta) DePina.
Mrs. Coelho was a sixty six year resident of East Providence before relocating to Florida in 2010. She worked as an Interpreter for the RI Department of Unemployment for thirteen years before retiring in 1992. She was a former communicant of St. Francis Xavier Church, an Honorary member of the Cape Verdean Progressive Center and a volunteer for the Cape Verdean Museum.
Julia cherished spending time with her family, reading, traveling, music, knitting and socializing with friends. Julia embraced life like no other. She lived a very fulfilling, energetic and wondrous 89 years. She will be remembered by so many for her wit, warmth and smile.
She leaves five daughters, Jean A. Coelho of New Port Richey, FL, with whom she lived, Carol C. Lopes of East Providence, Julie A. Coelho of Hartford, CT, Sheila J. Coelho of Murfreesboro, TN and Susan L. Amado and her husband Juan 'Curtis' of East Providence. Eleven grandchildren, Jamon 'Jay' S. Coelho, Michael W. (Delores) Lopes, Tracy E. Lomba, Joli A. Moniz, Jenna A. Moniz, Jade A. (Johan) Hernandez, Christopher R. Coelho, L.K. Marissa Hertzog, Sarah N. (Robert) Hernandez, Juan 'J' P. (Jessica) Amado and Curtis J. Amado as well as thirteen great-grandchildren. She was the sister of the late Bennie and John Pina. She leaves numerous nephews, nieces and friends whom she loved dearly. There was a special place in her heart for Barbara Coelho, whom she often referred to as her 6th daughter.
Julia leaves us knowing she has loved and was loved!
Her funeral will be on Monday, February 6, 2017 from the W. RAYMOND WATSON FUNERAL HOME, 350 Willett Avenue, Riverside at 8 a.m. with a Mass of Christian Burial in St. Francis Xavier Church, North Carpenter Street, East Providence at 10am.
Burial will follow in Gate of Heaven Cemetery, East Providence. In lieu of flowers, contributions may be made in her memory to Cape Verdean Progressive Center Scholarship Fund, 329 Grosvenor Avenue East Providence, RI 02914. Calling hours are Sunday, 1-4pm.