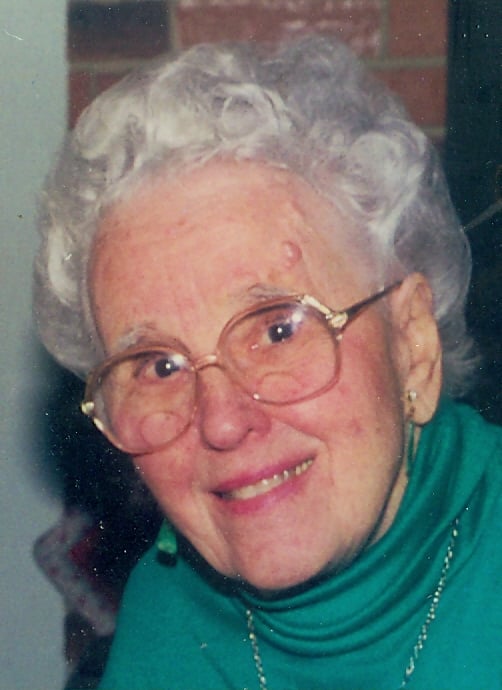 Date of Passing:
January 28, 2010
Conley, Julia, V., (Maney), 101, of Bullocks Point Avenue, Riverside, died peacefully on January 28, 2010. She was the wife of the late Thomas E. Conley.
Born in Newport on February 10, 1908, Julia was the daughter of the late John H. Maney and Roseanna (McPhee) Maney. The family moved to Warwick when Julia was very young and upon the death of her mother in 1915 they relocated to Providence, where Julia resided until moving to Riverside in 1962.
As a young child and up until adulthood Julia continued to spend her summers in Newport staying with aunts and uncles. As a result Julia had a lifelong affection for Newport and its history.
After graduating from the former Commercial High School in 1925, Julia began a 21 year career at the former Outlet Company. During those years, she was also very active in the former Girl's City Club, participating in many of its stage productions and in the Outlet Company Players Club. Her talents as a seamstress were used in the creation of many costumes for those productions.
In 1946 she left her position as Secretary to the President of the Outlet Company to await the birth of her only child, daughter Rosemary.
In May of 1947 Julia and her husband Tom opened Conley opened Conley's Ice Cream Parlor on Thurbers Avenue, South Providence. For the next 18 years, until it closed in 1965, 'Conley's,' and its owners were neighborhood fixtures. Julia, in addition to making the ice cream and serving the public, ran her own small charitable agency out of the back door. When asked, or when she saw a need, Julia along with Tom tried to provide the local needy with clothing, food, advice, whatever they could to help the world a better place.
During the 1950's in addition to running the family business Julia was active in the Ladies Auxiliary of St. Paul's Council Knights of Columbus and served as a Girl Scout Leader at St. Michael's School.
When the ice cream parlor closed in 1965 Julia began another career with the Rhode Island Department of Library Services, retiring in 1975.
Julia and Tom's retirement plans were changed with his death in 1977, but not one to remain idle for long Julia began her new 'career' as a genealogist.
She spent the next two decades researching the history of not only the Conley family but the Maney, McPhee and Corrigan lines as well as her corresponding with people throughout the country.
Her research into the Conley family resulted in the publication in 1990 of, The Conley Family in America, for which she was honored by the Providence Public Library in 1991 at their Rhode Island Author's Reception.
Sewing was also a hobby of Julia's for many years. She made aprons and quilts for the Holiday Bazaar at St. Brendan Church.
As an avid reader, especially the historical fiction and non-fiction, Julia had a keen interest in local Rhode Island History and had participated in several oral history projects of the Rhode Island Historical Society.
Julia had her own 'clipping service,' and would cut the pages of the daily Providence Journal for items of interest to friends and acquaintances. At first, using her antique manual typewriter and later the electric model, Julia would in her works 'Dash off a letter,' complete with appropriate clippings.
Using her stash of photographs, maps, postcards, quahog and mussel shells, she would respond to those people who would send requests to the letters to the editor asking for information about Rhode Island. Several long distance pen pal friendships developed through those exchanges.
Julia's love of music manifested itself in her guitar and piano playing-both self taught. She especially loved Irish music and looked forward to St. Patrick Day celebrations. Her love of her other ethnic heritage came forward when she would say, 'You know, I have a little scotch in me.' She wore the McPhee Tartan proudly at various Scottish events.
Julia leaves her only daughter; Rosemary Conley Danforth and her son-in-law; Richard H. Danforth of Barrington, two grandsons; Richard H. Danforth Jr. and his wife Theresa of Pawtucket and Ryan Danforth of Pawtucket, a niece; Julia Maney Borden of North Scituate and several grand nieces and nephews. She was the sister of the late Howard Cushing Maney.
Her funeral will be held on Tuesday February 2, 2010 from the W. RAYMOND WATSON FUNERAL HOME, 350 Willett Avenue, Riverside at 8:45 am with a Mass of Christian Burial in St. Brendan Church, Turner Avenue, Riverside at 10 am. Burial will follow in St. Anne Cemetery, Cranston.
Calling hours are Monday 4-8 pm. Flowers are respectfully omitted. In Julia's memory the family asks that you honor her by sending flowers to someone who could use a cheery bouquet or do a kindness for someone or remember the needy by making a contribution to the Social Ministries of St. Michael's Church, Providence or the St. Vincent de Paul Society of St. Brendan Church, Turner Avenue, Riverside, 02915 or the Activity Fund of Waterview Villa Nursing Home, 1275 South Broadway, East Providence, RI, 02914 would be deeply appreciated.