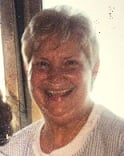 Date of Passing:
December 4, 2016
Hedgpeth, June A., 87, of Narragansett Avenue, died unexpectedly on December 4, 2016.
Born in Topeka, Kansas, a daughter of the late William and Ortha Brandel, she lived in Barrington for 22 years and Riverside for 30 years.
Mrs. Hedgpeth was a counter person at the Riverside Cleansers for 33 years.
June enjoyed reading, solving puzzles, knitting and was an excellent seamstress.
She is survived by two daughters, Peggy Hedgpeth of Riverside and Patti Fontes of Barrington; three grandchildren and two great grandchildren. She was the sister of the late Eugene Brandel.
Her funeral service and burial will be private.