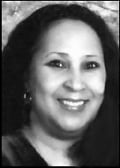 Date of Passing:
May 29, 2011
BROWN, KAREN L. 53, of Marion Avenue died Sunday May 29th at Rhode Island Hospital. Daughter of William E. Brown and Marianna (Rodrigues) Lopes.
Besides her parents she is survived by a daughter Bridgette Brown, Sons Jeffrey Jr., and Anthony Oliveira, a sister Carol Brown, granddaughter Jinijah Monterio and a nephew Devin Brown.
Her celebration of Life will be held Saturday, at 4:00PM in the W. RAYMOND WATSON FUNERAL HOME, 350 Willett Avenue, Riverside. Visitation prior to service 2-4 pm.