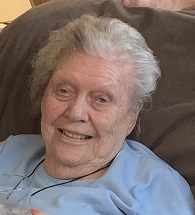 Date of Passing:
November 5, 2021
Catherine Elizabeth (Burkart) Phelps, age 98, passed away on Nov. 5, 2021 at UMass Medical Center, University Campus, in Worcester, Mass. Born on March 11, 1923, she was the only child of Aloysius Burkart and Mary E. (Smith) Burkart. She is a native of Lowville, N.Y.
Catherine was predeceased in 2019 by her husband of 72 years, Ross B. Phelps, Jr. She is survived by her five children: Thomas B. Phelps and his wife Laura (Williams) Phelps of Medfield, Mass.; Suzanne E. (Phelps) Smith and her husband Graheme Williams of Bellport, N.Y.; Mary C. Phelps and her partner Randall Taussig of Sarasota, Fla; Paul A. Phelps and his wife Lyla (Sanchez) Phelps of Palo Alto, Ca.; and Richard J. Phelps and his wife Sally (Philipps) Phelps of West Boylston, Mass. Catherine is also survived by eight grandchildren and four great-grandchildren.
Over the course of their lives, Catherine and Ross lived in Lowville, Sag Harbor, Fort Plain, St. Johnsville, Clifton Park and Valatie, N.Y. They had a long-time summer cottage at Caroga Lake, N.Y. In their retirement years, they resided in Barrington, R.I., with seasonal homes in Marco Island and Naples, Fla. They were members of St. Luke's Catholic Parish in Barrington. Most recently, they resided at Southgate at Shrewsbury, Mass.
Catherine, nicknamed "Kitty," graduated from Potsdam Teaching College and worked for several years as an elementary school teacher. She taught second grade in Henderson and Boonville, and later taught reading in Colonie, N.Y. During retirement, she volunteered as a docent at Blithewold Mansion, Gardens & Arboretum in Bristol, R.I.
Catherine loved to sing and play piano. Her voice was transcendent at Sunday church services. She enjoyed reading, gardening, knitting and needlepoint, and made several quilts and wall art. She was a pet lover and enjoyed bird watching. In their retirement years, she and her husband drove across the country in their RV and toured many state parks. They also cherished their overseas travels in Europe.
Catherine will be laid to rest alongside her husband in Gate of Heaven Cemetery, East Providence, R.I. Funeral arrangements are under the care of W.R. Watson Funeral Home, Riverside, R.I. The family wishes to thank the staffs of Atria Bay Spring Village, Barrington, R.I., and Southgate at Shrewsbury, Mass., for their compassion and care.
In lieu of flowers, the Phelps family appreciatively requests that memorial donations be made to the Rhode Island Audubon Society (https://support.asri.org/campaign/give-a-gift-for-nature/c291579) or the UMass Chan Medical School/Seddon Lab/Macular Degeneration Center for Excellence (https://www.umassmed.edu/seddonlab/).