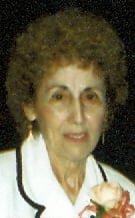 Date of Passing:
December 29, 2010
Papa, Katherine, Marie, 89, of Maple Avenue, died unexpectedly at Miriam Hospital on December 29, 2010 surrounded by her loving family. She was the wife of the late Michael Papa.
A lifelong resident of Barrington, she was the daughter of the late Tomasso and Assunta (Viccione) Casale.
Mrs. Papa was a thread drawer at the former RI Lace Works for 30 years before retiring in 1989.
Katherine was a communicant of Holy Angel Church and the Carmelite Monastery. She enjoyed crocheting and line dancing.
She is survived by two daughters; Jeri S. Papa of Riverside and Annette Sylvia-Paolello of Riverside, a son; Antone D. Sylvia of Riverside, a sister; Virginia Tanzi of Johnston, three grandchildren; Paul, Tom and Pamela Murgo, seven great grandchildren; Crystal Frates, Lindsey Sylvia, Abigail Sousa, Joshua, Sofia, Victor and Evelyn Murgo, and two great great grandsons; J.J. and Johnny. She was the mother of the late Michelle Sylvia and sister of the late Sandy Palumbo, Lucy and Jimmy Casale.
Her funeral will be held on Monday January 3, 2011 from the W. RAYMOND WATSON FUNERAL HOME, 350 Willett Avenue, Riverside at 8:45 am with a Mass of Christian Burial in Holy Angel Church, Maple Avenue, Barrington at 10 am. Burial will follow in Santa Maria del Campo Cemetery, Upland Way, Barrington. Calling hours are Sunday 2-6 pm.