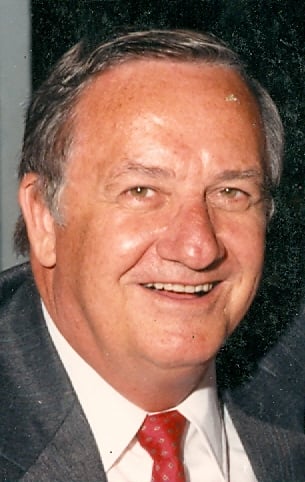 Date of Passing:
September 11, 2010
Kraunelis, Leo, J., 80, of Walnut Road, died peacefully on September 11, 2010 at the Holmes Regional Medical Center, Melbourne Beach, FL. He was the beloved husband of Anne (Boylan) Kraunelis.
Born in Pascoag, a son of the late Stanley and Antonia (Viklute) Kraunelis, he lived in Barrington for 48 years and Melbourne Beach, FL for 20 years.
Mr. Kraunelis was a History and U.S. Government teacher at Hope High School for 34 years before retiring in 1990, where he served as the football, hockey and golfing coach. He previously taught at North Providence High School for 3 years.
Leo was instrumental in the founding of the Barrington High School Hockey program in the early 1970's. He was a Rhode Island All-State football, hockey and baseball player for three consecutive years at Burrillville High School before going on to play football and hockey at Boston College. Leo was named among the 'Top One Hundred Rhode Island Athletes of the 20th Century' by the Providence Journal Sportswriters Association in 2001.
Mr. Kraunelis was a United States Army Veteran serving during the Korean Conflict.
Besides his wife of 52 years, he is survived by three sons; Leo J. Kraunelis Jr. of Boxford, MA, John Kraunelis of Barrington and Paul Kraunelis of Yardley, PA, three daughters; Margie Pickering of Warwick, Kathy Flaherty of Barrington and Jane Starkey of Boylston, MA and twenty-two grandchildren.
His funeral will be held on Saturday September 18, 2010 from the W. RAYMOND WATSON FUNERAL HOME, 350 Willett Avenue, Riverside at 8:45 am with a Mass of Christian Burial in St. Luke Church, Washington Road, Barrington at 10 am.
Calling hours are Friday 4-9 pm. Burial will be held in Newport Memorial Park, Middletown. Flowers are respectfully omitted. Contributions in Leo's memory to Barrington High School Hockey Alumni Club, (BHSHAC) 8 Valentine Drive, Barrington, RI, 02806 would be deeply appreciated.