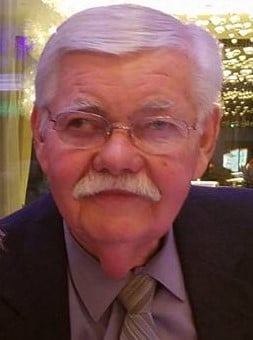 Date of Passing:
March 29, 2021
Czaskos, Leroy A., 80, of Highland Avenue, Barrington, died peacefully on March 29, 2021 surrounded by his loving family at Hope Hospice & Palliative Care, Providence. He was the beloved husband of Lucille (Pogorzelski) Czaskos.
Born in Milwaukee, WI, a son of the late Alfonse and Sylvia (Wojeiechowski) Czaskos, he lived in Barrington for 50 years.
Mr. Czaskos was a graduate of South Division High School Milwaukee, WI Class of 1958 and he graduated from Milwaukee Institute of Technology with an Associates in Applied Science in Telecasting in 1960.
LeRoy worked 42 years in television broadcasting. One of his favorite stories to tell is how in 1969, as a Production Manager at WLWI-TV in Indianapolis, Indiana, LeRoy was David Letterman's boss. Yes, the Late Night Show's David Letterman.
He worked for WISC-TV, Madison, WI – Director 1960 – 1964, WKOW-TV – Madison, WI – Production Manager 1964 – 1969, WLWI-TV – Indianapolis, IN – Production Manager 1969 – 1970, WPRI-TV – Providence, RI – Producer/Director 1970 – 1981, WSBE-TV Providence, RI – Director of Educational Services 1982 – 2002.
Mr. Czaskos taught communications at Davies Tech School. He worked as producer/director of televised games for the Indianapolis Pacers.
Leroy was a former member of the Lions Club of Warren and Barrington. He was a founding member of the WWP; established in 2004 in Bourne, MA. He enjoyed camping seasonally at Bay View Camp Ground of Bourne, MA.
Besides his wife of sixty one years, he is survived by his daughters, Debora Deese and her husband Jimmy R. Deese of Barrington and Kari Corveno of Rumford; three grandchildren, Jessica Brouillard, Joshua Deese and Jacob Deese and one great-grandaughter, Logan Lucille Brouillard. He was the brother of the late James Czaskos and Donald Allison.
His funeral service and burial will be private. Contributions in Mr. Czaskos's memory to Hope Hospice & Palliative Care Rhode Island, 1085 North Main Street, Providence, RI 02904-9826 would be deeply appreciated.