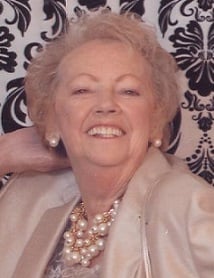 Date of Passing:
February 9, 2014
Hallam, Lorraine, C., 84, of Cozzens Avenue, Riverside, died peacefully on February 9, 2014 surrounded by her loving family. She was the wife of the late William A. Hallam and former wife of the late William A. Fallon.
Born in Queens, NY, a daughter of the late William and Edna (Mansfield) Porter, she lived in Riverside for 21 years previously residing in Pawtucket.
Mrs. Hallam was a purchasing clerk for the former Trifari Mfg. for 22 years before retiring in 1994.
Lorraine was a former member of the Riverside Jr. Women's League. A sports enthusiast she was a devoted New England Patriots fan. She enjoyed traveling, fashion and spending time with her loving grandchildren and great grandchildren. She lived a rich and full life.
She is survived by a son; William P. Fallon and his wife Gale of Riverside, two daughters; Karen A. Fernandes and her husband Edward of Cranston and Gail M. Robinson and her husband Richard of Cranston, three step-children; Linda Davis of Rockport, MA, William Hallam of Barrington and Russell Hallam of Riverside, seven grandchildren, five step-grandchildren, twelve great grandchildren and two great great granddaughters. She was the sister of the late Barbara M. Nelson.
Calling hours will be held on Tuesday February 11, 2014 in the W. RAYMOND WATSON FUNERAL HOME, 350 Willett Avenue, Riverside from 5-8 pm. Burial will be held in Forest Chapel Cemetery, Barrington.