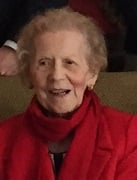 Date of Passing:
February 29, 2016
Creamer, Lorraine, I., of Atria Bay Spring, died peacefully on February 29, 2016 surrounded by her loving family. She was the beloved wife of Edward J. Creamer.
Born in Pawtucket, a daughter of the late Arthur Rondeau Sr. and Irene (Rock) Rondeau, she lived in Barrington for the past two and a half years, previously residing in Pawtucket.
Lorraine was a Steward of St. Peter of The Papal Foundation. She served for many years on the board of the Memorial Hospital of RI Auxiliary and was very involved in the life of her parish, St. Teresa Church in Pawtucket, RI.
Lorraine loved time with her family most of all. She was devoted to being a loving wife, mother, grandmother and friend. She loved to entertain, hosting countless holidays, birthdays and cookouts for her family. She had a strong Catholic faith and great humility.She was unfailingly kind and gentle to all.
Besides her husband, she is survived by three sons, David E. Creamer and his wife Claire of Attleboro, MA, Glenn M. Creamer and his wife Mary Jane of Barrington, and Keith P. Creamer of Boston, MA; six grandchildren, Andrew, Tanya, Lara, Tyler, Margot and Teddy Creamer; a brother, Arthur Rondeau Jr. of Warminster, PA and a sister, Jacqueline Quirk of East Greenwich. She was the mother of the late Kris Creamer and sister of the late Gerald Rondeau.
Her funeral will be held on Friday, March 4, 2016 from the W. RAYMOND WATSON FUNERAL HOME, 350 Willett Avenue, Riverside at 8:30 a.m. with a Mass of Christian Burial in St. Luke Church, 108 Washington Road, Barrington at 10 a.m. Burial will follow in Mount St. Mary Cemetery, Pawtucket.
Calling hours and flowers are respectfully omitted. Contributions in Lorraine's memory to the Little Sisters of the Poor, Jeanne Jugan Residence, 964 Main Street, Pawtucket, RI, 02860 would be deeply appreciated.