Louise J. Elderkin-Couture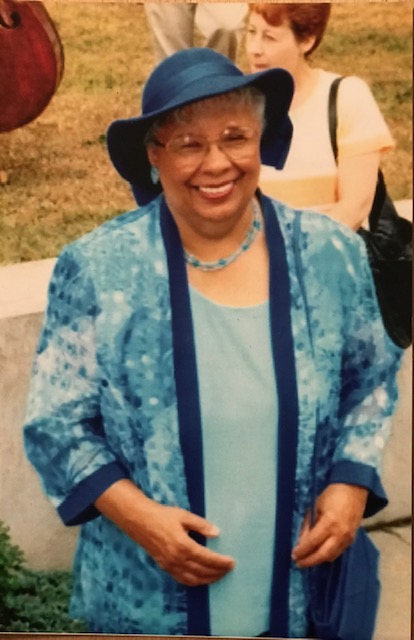 Date of Passing:
October 6, 2018
Louise J. Elderkin-Couture (Coelho), 93, of Pawtucket Avenue, Riverside, passed away on Saturday, October 6, 2018 surrounded by her loving family at Philip Hulitar Hospice Center, Providence. She was the former wife of Edwin "Eagle Hawk" H. Elderkin and Robert Couture.
She was born in East Providence, Rhode Island on March 17, 1925, she was the daughter of the late Joseph and Eugenia (Lopes) Coelho.
During WWII Louise was employed by Imperial Knife and later went on to work for Coro's and Davol until her retirement in 1987. She was a member of the Seventh Day Adventist Church for over 50 years.
Louise was an advocate for healthy eating and physical fitness. She enjoyed dancing, singing, cooking, eating and doing crafts. She loved life and people and her greatest joy was to share her religious convictions. She was an Evangelist for her Lord Jesus Christ. Anyone who knew her, knew she would take the mic to testify about her Lord and Savior.
She is survived by three daughters, Priscilla L. Elderkin-Lee of East Providence, Rhode Island, Roberta J. Elderkin-Santucci and her husband Robert of West Warwick, Rhode Island, Denise M. Elderkin-Pion of Port Charlotte, Florida; a son, Gary L. Elderkin of Bristol, Rhode Island; ten grandchildren, Sherri A. Lee, Louise M. Mowinckel, Harvey E. Lee, Jr., James D. Lee, Jason T. Lee, Robin A. Williams-Barros, Renee L. Smith, Tammy M. Lee, Gina L. Fisher-Cook and Joshua J. Elderkin; twenty-three great grandchildren, Edward W. Mowinckel, Benjamin A. Mowinckel, Taylor L. Lee, Teri A. Lee, Harvey E. Lee, III, Alexander B. Lee, Zachary G. Lee, Jason T. Johnson, Dana P. Johnson, Jayla A. Gadson, Mya L. Gadson, Chase A. Barros, Cameron R. Barros, Tristan C. Barros, Brandon A. Smith, Chad A. Smith, Michael A. Smith, Cherish M. Smith, Carl J. Lee, Richard W. Fisher, Bruce J. Fisher-Messier, Josiah J. Cook and Elijah J.B. W. Cook; two great-great grandchildren, Gabriel J. Lecuive and Shaniyah A. Fisher; a son-in-law, Harvey E. Lee, Sr. and a host of relatives.
She was the mother of the late Edwin "Eddie" H. Elderkin; the grandmother of the late Dana M. Lee; sister of the late John Coelho, Anthony J. Coelho, Peter J. Coelho; Joaquin Coelho; Benjamin J. Coelho; Lena Coelho, Alice J. Ferrier and Mary Senteio.
Her funeral service will be held on Friday, October 12th at 11:30 a.m. in the W. Raymond Watson Funeral Home, 350 Willett Avenue, Riverside. Calling hours are Friday from 10-11:30 a.m.