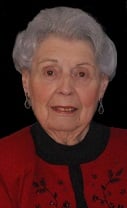 Date of Passing:
January 26, 2017
LUCILLE Y. WITKOWSKI, 89, of Barrington, RI passed away on January 26th. Born in Fall River, MA, she was the daughter the late Wilfrid and Elda Gendron.
Upon retiring from a career as office manager at John F. Stafford Insurance Agency in Fall River, she moved to Barrington where she lived with her daughter, Janet A. Maloney and her family for the past 25 years.
A loving mother, she is survived by four children, Diane L. Sparks and her husband Thomas of Westford, MA, John J. Witkowski and his wife Susan of Colts Neck, NJ, Joan M. Adams and her husband Philip of Kirkville, NY and Janet A. Maloney and her husband Paul of Barrington, RI. She was also the beloved grandmother of fifteen grandchildren and great-grandmother of eight great-grandchildren. Lucille was predeceased by her sister and brother-in-law, Pauline and Normand Gamache of South Winsor, CT.
Her funeral will be held on Monday January 30, 2017 from the W. RAYMOND WATSON FUNERAL HOME, 350 Willett Avenue, Riverside at 8:45 a.m. with a Mass of Christian Burial in Our Lady of Mount Carmel Church, 141 State Street, Bristol, RI at 10:30 a.m. Interment will follow in Notre Dame Cemetery, Fall River, MA.
Calling hours are Sunday evening from 5-7 p.m. In lieu of flowers, donations may be made in her memory to Our Lady of Mount Carmel School, 127 State Street, Bristol, RI 02809 or the Diabetes Action Research & Education Foundation, P.O. Box 34635, Bethesda, MD, 20827..