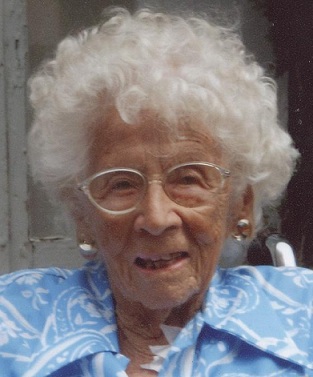 Date of Passing:
February 7, 2012
Rennick, Lucy, Kee, 103, of James Trail, died peacefully at home on February 7, 2012 surrounded by her loving family. She was the wife of the late Kenneth A. Ricci and the late Charles Rennick.
Born in Warren, a daughter of the late Howard and Harriet (Clark) Kee, she lived in Richmond for 74 years.
Mrs. Rennick was a retired school teacher and matriarch of Trails End Farm where she affectionately known as the, 'Queen Bee.' She enjoyed life on the farm and conversation with people that came from all over New England to pick up honey bees or get stung, 'Apitherapy.'
Lucy loved to talk about her plants and animals, many of which were kept for not just their beauty, but also for medicinal purposes. She also liked to boast that her teaching certificate allowed her to teach K-12 grades. She taught science and was a guidance counselor at the Hugh B. Baines School in Cranston for 31 years before retiring in 1967. She was invited back in 2009 to celebrate her 50th year of retirement and a science room was dedicated in her name.
Mrs. Rennick was a member of the Eastern Star Nastelle Chapter, now the Adah Chapter for over 60 years.
She is survived by nieces and nephews; Douglas Kee of Barrington, Sarah Kee of Virginia and Norman Kee of Barrington and several other nieces and nephews. She was the sister of the late Mary Anderson, Irene Pedersen, Gordon, Norman, Ralston and Howard Kee Jr.
Her funeral service will be held on Saturday February 11, 2012 in the W. RAYMOND WATSON FUNERAL HOME, 350 Willett Avenue, Riverside at 11 am. Burial will follow in South Burial Ground Cemetery, Warren. Calling hours are Friday 4-7 pm.