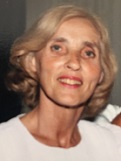 Date of Passing:
November 21, 2016
Dolan, M. Elaine, of Waterway, Barrington died on Monday, November 21 2016 at home after a brief illness, her children by her side. She was the beloved wife of the late John F. Dolan.
Born in Providence, the daughter of Marie E. and John J. Shea, she was an alumna of St. Xavier Academy (1946) and the Rhode Island Hospital School of Nursing (1948).
Her greatest source of joy was her family, and the love of her life was her deceased husband John. She leaves four children, Dr. M. Elaine Brown of Huntington NY, three sons, John F. Dolan, Jr. and his wife Caroline of Rosslyn, VA, Mark Peter Dolan, Esq. and his wife Kimberly of Barrington, and Michael Robert Dolan, Esq. and his wife Heidi also of Barrington. She was a devoted and doting grandmother and is survived by thirteen grandchildren and two step-grandchildren; Nathaniel, Alexandra and Ian Brown; Natalie, Eileen, Veronica, and Stephanie Dolan; Mark Jr., Patrick and Martha Dolan; Kelly, Elizabeth (Libby) and Bryce Dolan; Maddison and Magdalene (Maggie) O'Hayer.
She is survived by her loving brother, Robert B. Shea, Esq. and his wife Mary of Greenwich, CT. She is also survived by her loving sisters-in-law Mary Garvey of Providence, Marie Renza of Cranston and Barbara Dolan of North Kingston, RI. She was predeceased by her son-in-law Douglas W. Brown, Esq.
A devout Catholic, she was a communicant of St. Luke Church in Barrington.
She was an active member of the Barrington community where she resided for close to 60 years. She was a realtor for over 25 years, most recently with Coleman Realtors. She was a member of the Barrington Women's Club and an active participant in several bridge groups. Until recently, she could be found swimming most mornings at the Bayside YMCA. She was most proud of her children's accomplishments and loved to attend graduations, sporting events, birthdays and other activities and celebrations of her children and grandchildren. Most of all she loved family gatherings, which would inevitably involve much humor and laughing.
She was kind and gentle, always giving. Her life was informed by her family, her children and, most important, her marriage. She lived the life of her dreams.
Her funeral will be held Monday November 28, 2016 from the W. RAYMOND WATSON FUNERAL HOME, 350 Willett Ave., Riverside at 8:45 a.m. followed by a Mass of Christian Burial at 10 a.m. in St. Luke Church, Washington Rd., Barrington. Interment will be held in Forest Chapel Cemetery, Nayatt Rd., Barrington.
Calling hours are SATURDAY 2-4 p.m. and 6-8 p.m. In lieu of flowers, memorial contributions can be made to St. Luke Church, 108 Washington Road, Barrington, RI, 02806.