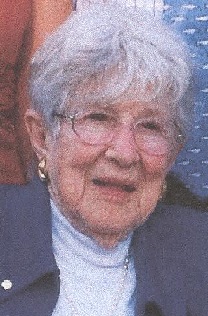 Date of Passing:
March 28, 2013
Margaret Hartzell, 98, of Ronald Road, Barrington passed away Thursday, March 28 peacefully in her home surrounded by loving family.
She was born to Henry and Isabelle Martin in 1914 in Elizabeth, NJ. She lived most of her life in New Jersey, where she met and married her husband Ken and raised her two daughters Donna and Gail. In 1984 she and Ken moved to Barrington, following their daughter, Donna, and her family.Margaret was a dedicated Mother and grandmother, playing an active role in the lives o f her family. She was known for her hospitality, her gardens and especially her pies. She was a member of St Luke's Parish and frequently attended mass at the Carmelite monastery. She was a long time member of the Barrington Garden Club.
Margaret is survived by her daughter Donna Carreiro of Bristol, and sisters Rita Trontell, Kathleen Bloom and Isabelle DeAngeles. She is also survived by five grandchildren; Kenneth and Keith Glatzer, Gail Titus, Jason Reinalda and Lauren Kerr, six great grandchildren and a loving community of neighbors and friends.
A Mass of Christian Burial will be held on Wednesday April 3, 2013 in St. Luke Church, Washington Road, Barrington at 11 am. Burial will be held on Thursday at 1 pm in Greenwood Cemetery, Trenton, NJ. Calling hours and flowers are respectfully omitted. Contributions in Margaret's memory to The Visiting Nurse Services, 1184 East Main Road, Portsmouth, RI, 02871 would be deeply appreciated. Arrangements are by the W. Raymond Watson Funeral Home, Riverside.