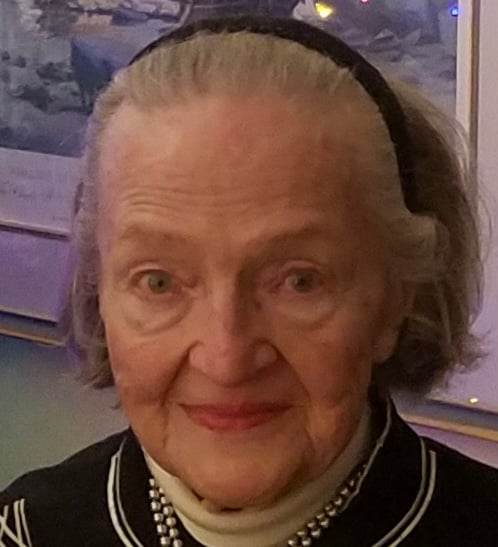 Date of Passing:
September 19, 2022
Marion Krawczyk, 97, a longtime resident of Barrington, died at Grace Barker Health in Warren on September 19, 2022.
Born in Fall River on December 13, 1924, the daughter of the late Ernest Raposa and Marion Thomas Raposa, she was the wife of the late Joseph A. Krawczyk. Marion spent her formative years in Providence's Smith Hill, where she graduated from St. Patrick's High School and went on to take classes at RISD.
Creative and industrious, Marion became display manager for Scott Furriers in Providence and Boston in the 1940s. She also served as assistant buyer for Gladdings Department Store before marrying her husband in 1948. The couple travelled extensively throughout their lives. They enjoyed many adventures, from visiting friends made in Europe during the war to cruises around the globe.
Like fellow members of the Greatest Generation, Marion's fearless spirit tackled any challenge head-on and she believed in contributing to her community. After settling in Barrington in the early 1950s to raise her family, she was president of the West Barrington Elementary School, where she was instrumental in creating its first library. She also served as president of the Barrington Junior Women's Club and State Federation Conservation Commission. She was a member of Barrington Conservation and Barrington Scholarship Committees. A devout Catholic, she was an active member of St. Luke's Church, where she was president of the Altar and Rosary Society.
Marion was involved in retail for much of her life. At various times, she owned the Brass Lantern Gift Shop on Washington Road in Barrington, the Bass River Country Store in South Yarmouth, MA, as well as Seekonk's Grist Mill Country Store. A lover of antiques and a member of the New England Appraiser's Association, she continued to buy and sell pieces into her 90s. Her leisure activities included bridge and Scrabble. In her later years, she became an avid reader, voraciously consuming books the way she did coffee ice cream.
Predeceased by her son, Joseph G. Krawczyk, Marion is survived by her daughter, Jean Douglas and her husband, Stuart Douglas, of Barrington. She also leaves behind two grandsons, Alec Douglas of Boston and Joe Krawczyk of Fall River, along with daughter-in-law, Mary Ann Krawczyk of Fall River.
The family would like to thank the staff at Grace Barker Health and Hope Health Hospice and Palliative Care for their dedication and support.
Burial at the Massachusetts National Cemetery, Bourne, MA will be private.