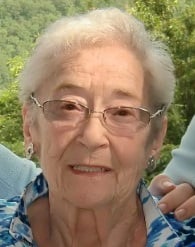 Date of Passing:
November 3, 2017
Maris R. Sullivan, 86, of York, SC passed away peacefully on November 3, 2017 surrounded by her loving family.  Mrs. Sullivan was the beloved wife of the late William J Sullivan.
Born in Providence, RI on February 8,1931, the daughter to the late William and Mary (née Hulme) McLaughlin, she was also proceeded in death by her two beautiful sisters, Eileen M. Hughes and Sheila M. McLaughlin.
Mrs. Sullivan was an extraordinary person whose selfless love for her family and friends made her the best example of what a person should be. Faced with many adversities throughout her life, she met every challenge with faith, grace, strength and perseverance. Her smile and quick wit were an inspiration to those who met her.
Mrs. Sullivan is survived by her daughter, Madeline A. Grimm and son-in-law, Daniel of York SC; son, William J. Sullivan Jr and daughter-in-law, Cindy of Hanover IL; and two grandchildren, Alexander W. Grimm of SC and Elizabeth M. Grimm of NC. She is also survived by her estranged son, Brian E. Sullivan of Barrington, RI.
In lieu of flowers, contributions in Maris Sullivan's honor can be made to Hospice of Union County (700 W. Roosevelt Blvd. Monroe NC. 28110).