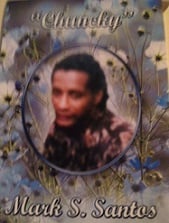 Date of Passing:
January 24, 2015
Santos, Mark S. 'Chuncky', 58, of Randall Street Providence, Rhode Island died Saturday, January 24,2015 in Miriam Hospital after a long battle with Myasthenia Gravis.
Mark was born July 24,1956 in Providence, Rhode Island a son to the late Marculino and Isabel ( Fernandes) Santos. He was raised by his aunt Engenia (Fernandes) Brown and late Uncle Clarence Brown.
Mark was a avid sports fan particularly for the Pittsburg Steelers.
He is survived by his daughter Shonda Lewis of Pawtucket, RI, two sisters Linda 'Linney' Washington of Cranston, RI and Cheryl 'Rhody' Lewis of Raleigh, NC, Three Grandchildren Latrelle Fisher, Janelle and C'yonna Lewis, a Aunt Eugenia (Fernandes) Brown of Melbourne FL, a Uncle Zachary Fernandes of East Providence, RI, several nieces, nephews and cousins.
His Funeral Service will be held Thursday, January 29, 2015 at 12:00 pm in the W. Raymond Watson Funeral Home, 350 Willett Avenue Rivetside with visitation starting at 10:30 am. Flowers are respectfully omitted.Contributions in his memory to The Myasthenia Gravis Foundation of America 395 Lexington Avenue 15th Fl New York, NY 10017.