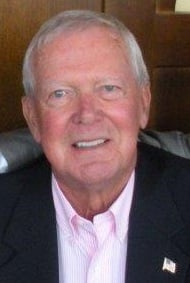 Date of Passing:
June 28, 2018
Moran, Martin A., Jr., 88, of Barrington, passed away peacefully at home on June 28, 2018. He was the loving husband of his beautiful wife and best friend of 62 years, Shirley A. (Cain) Moran.
Born in Quincy, MA, a son of the late Martin A. and Mary I. (Foran) Moran, he lived in Barrington for 47 years.
Mart was a graduate of Suffolk University Class of 1956. He was the founder and owner, until his retirement, of M.A. Moran Jr. & Associates from 1975-1999.
Mart was a communicant of St. Luke's Parish for over 40 years. He was a member of the Rhode Island Country Club and former member of the Bristol Elks Club and the Lions Club of Pembroke, MA (of which the Moran family were former residents). An avid sports enthusiast, he especially enjoyed golfing. Ultimately his greatest love was spending time with his family, especially his loving grandchildren, and family reunions on the Cape.
Mart was a proud United States Army Veteran serving as a Master Sergeant in Germany during the Korean War.
Besides his adoring wife, he is survived by his four loving and admiring sons: Martin A. Moran III, of Barrington, and his wife Susan and their daughters, Kerryn and Kaleigh, Rob Moran, of Atlanta, GA, and his wife Julie and their daughters, Maiya and Makayla, Steve Moran, of Seekonk, MA, and his children, Chelsea and Christian, and Sean Moran, of Rumson, NJ, and his wife Marion and their sons, Aedan, Dane, Caellum and Declan. In addition to his devoted family, he is also survived by many loving relatives including his sister-in-law, Dot McCaffrey, and several nieces and nephews.
Marty, as he was fondly referred to by friends, was married to his best friend and partner, Shirley, for 62 years. They raised four boys and through the formula of laughs, love, and faith, created an amazing life for their boys and their extended families. Marty was a man who could make the simple days in the backyard of their Barrington home of 47 years feel like the most special place to be in the world. The family trips to 2nd Beach on a Sunday in the 70's and the backyard cookouts that followed are indelible memories that his boys call upon often. He did this with the focus on the most important qualities such as kindness, humor, and integrity. He was a man of both Grace and great Character and a part of the Greatest Generation ever. Marty created his families roots in Barrington that then connected to so many other wonderful families in town throughout the 70s to the present. His spirit is spread far and wide through his sons' families and friends. He always welcomed all to his home. He always had a reserved calmness yet mixed with such a warm sense of kindness. He treated all that he met with the same respect and deference. As a father and role model, there was none better.
Relatives and friends are invited to attend a Mass of Christian Burial at St. Luke Church, Washington Road, Barrington, on Friday, July 6, 2018, at 11 a.m. In lieu of calling hours, a reception to celebrate Marty's life will be held on Friday at Rhode Island Country Club, Nayatt Road, Barrington at 1 p.m. Flowers are respectfully omitted. Contributions in Marty's memory to the Home for Little Wanderers, 10 Guest Street, Boston, MA, 02135 would be deeply appreciated.