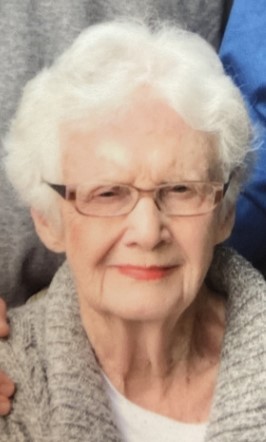 Date of Passing:
August 18, 2022
Mary Dolores (Ashe) Frank, 93, of Barrington, passed away peacefully on August 18, 2022, surrounded by her loving family.
Born in Springfield, Mass. to Mary (Flaherty) and Joseph Ashe, she lived in Barrington for 57 years. Mary was the beloved wife of Kenneth I. Frank (deceased 1996) for over 45 years. She is survived by her daughters Karen Marrone (husband Tony), Lisa Gallant (husband Stephen) and Tracey (husband Dennis) and her five grandchildren (Nicholas, Brittany, Joseph, Casey and Shane).
A resident of Barrington for close to 60 years, Mary worked as a bank teller at Fleet Bank, first in Bristol and then Barrington, for 20 years.
Mary was a parishioner of St. Luke's Church and a member of Young at Heart Seniors. She was a longtime volunteer for the Town Election Committee, Meals on Wheels and the Barrington School Department in Mrs. Stoner's class.
Whether it was in Barrington, Cape Cod or Nantucket, Mary loved spending the day at the beach and enjoyed the outdoors. Mary was a caring wife, mother, grandmother, sister and friend. She appreciated the wonderful community of Barrington and cherished her animals, family, friends, Church, and neighborhood.
Always thoughtful and kind, her giving spirit and genuine concern for others will be missed by all who knew her.
A Memorial Mass will be held on Saturday, November 5, 2022 at 11:00 a.m. at St. Luke Church, Washington Road, Barrington. In lieu of flowers contributions in Mary's memory to St. Luke's Church, 108 Washington Road, Barrington, RI 02806 would be deeply appreciated.