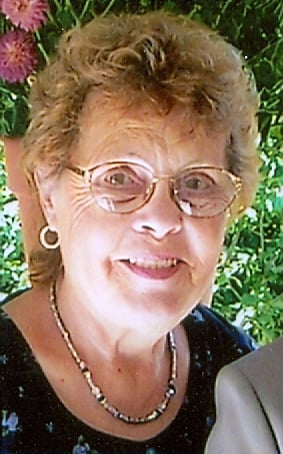 Date of Passing:
May 5, 2010
DeSisto, Mary, E., 79, of Anoka Avenue, died peacefully on May 5, 2010 at home surrounded by her loving family. She was the loving wife of Joseph G. DeSisto.
Born in Providence, a daughter of the late Carl and Margaret (Duffy) Berg, she lived in Barrington for 70 years.
Mrs. DeSisto was a podiatrist assistant for Dr. Romano's office for 20 years before retiring 1990.
Mary was a communicant and lecturer at St. Luke Church, where she also was a member of the Young at Heart Club. She also was a lecturer at Holy Angel Church. She believed in her faith, family and friends.
Besides her husband of 56 years, she is survived by five daughters; MaryJo DeSisto, Kim DeSisto, Denise DeSisto, Ann Travers and Kathleen Luther, all of Barrington, three sons; Tom DeSisto, David DeSisto and Jason DeSisto, all of Barrington, a brother; Carl Berg of Warren, ten grandchildren and one great granddaughter. She was the mother of the late Peter DeSisto and sister of the late Ann M. Romano.
Calling hours will be held on Monday May 10, 2010 in the W. RAYMOND WATSON FUNERAL HOME, 350 Willett Avenue, Riverside from 4-8 pm. A Mass of Christian Burial will be held on Tuesday May 11, 2010 in St. Luke Church, Washington Road, Barrington at 10 am. Burial will follow in Gate of Heaven Cemetery.
Contributions in Mary's memory to Make-A-Wish Foundation of, One State Street, Suite 100, Providence, RI, 02908 would be deeply appreciated.