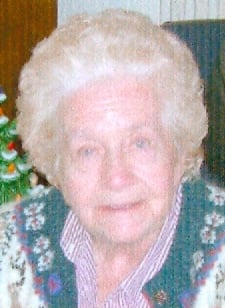 Date of Passing:
March 11, 2010
King, Mary, F., 88, of Greenwich Avenue, died peacefully on March 11, 2010 at the Chestnut Terrace Rehabilitation Center, Wampanoag Trail, East Providence after a two month illness.
Born on February 16, 1921, she was the daughter of the late Owen and Marguerite (Penney) King, she lived in East Providence for 42 years.
Miss King enrolled at the University of Rhode Island in an accelerated three year degree program in the Medical Technology Program. She graduated with her Bachelors of Science Degree in 1945 and continued her studies at many other colleges.
Mary was a laboratory technician at St. Joseph and Miriam Hospital. She also was a Bacteriologist for the State of Rhode Island. In retirement, she worked at the East Providence Senior Center in Riverside in the Meal Site Program.
Miss King was a communicant and member of the Rosary and Altar Society of St. Martha's Church. She also was a member of the Silver Haired Legislature. Her greatest joys were being able to take care of her sister; Louise and also of being helpful to all who knew her.
Mary is survived by her sister; Louise (M. Louise) King of East Providence. She is also survived by her cousins; Stephen and Joseph Kirby of Barrington, Ruth Masterson of Warwick and Ret. Col. Hugh Penney of North Easton, MA.
Her funeral will be held on Monday March 15, 2010 from the W. RAYMOND WATSON FUNERAL HOME, 350 Willett Avenue, Riverside at 8:45 am with a Mass of Christian Burial in St. Luke Church, Washington Road, Barrington at 10 am. Burial will follow in St. Ann Cemetery, Cranston.
Calling hours are Sunday 3-6 pm. Flowers are respectfully omitted. Contributions in Mary's memory for the purchase of library books for the Stephen P. Kirby Library at Cedar Hill School, 35 Chimney Drive, Warwick, RI, 02886 would be deeply appreciated.