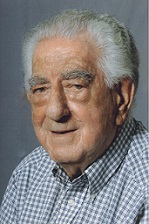 Date of Passing:
May 17, 2015
Maturi, Michael, 94, of Church Street, died peacefully on May 17, 2015 at the Crestwood Nursing Home, Warren. He was the beloved husband of the late Veronica T. 'Dolly', (Andreozzi) Maturi.
Born in Bristol, a son of the late Antonio and Antoinette (Celella) Maturi, he lived in Barrington since 1949.
Mr. Maturi was a lifelong barber in Warren for 70 years before retiring in 2001.
Michael was a communicant and usher at Holy Angels Church. He was a member of the Warren American Legion Post #11. A sports enthusiast, he was a devoted Boston Red Sox fan and enjoyed listening to music.
Mr. Maturi was a United States Navy Veteran serving during World War II.
He is survived by two sons, Michael A. Maturi of Somerset, MA and Rodney Maturi of Providence; a grandson; Jeremy Maturi of Canton, MA and a sister, Livinia Pagnano of Oregon. He was the brother of the late Josephine Cortellessa, Carolyn Baum, Rosalyn Pontes, Peter and Henry Maturi.
His funeral service was private. Burial was held in Gate of Heaven Cemetery. Arrangements are by the W. RAYMOND WATSON FUNERAL HOME, Riverside.