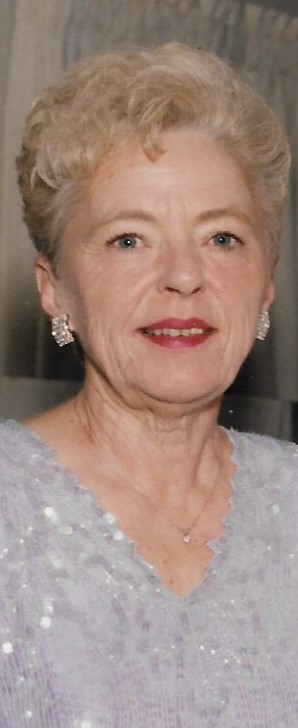 Date of Passing:
September 30, 2019
Cummings, Monica A., 83, with profound sadness we announce the passing of Monica Ann (Deziadus) Cummings our loving wife, mother, grandmother and friend to all whose lives she touched, on September 30, 2019.
She left us while resting at her residence in Bristol, Rhode Island. She was in her 83rd year.
Born in Oceanside, NY she witnessed incredible changes to her world and technology, having been first a model in New York and appearing in Michael Todd's movie, "Toddeo" and later serving as an X-ray technician at St. Claire's Hospital and Mercy Hospital both in New York before becoming a homemaker.
During high school she met her loving husband Herbert Cummings to whom she has been married for 63 years.
She leaves her three children Thomas J. Cummings and his wife Patricia, Christine Jennings and Monica-Jean Cummings; and cherished granddaughters Vanessa and her husband Michael Farinha, Michelle and her husband Brian Langevin, Pamela and her husband Alex Friedman; and grandsons Brendan and Shane Smith; and great grandchildren Abigail, McKenzie and Benjamin. She was predeceased by her grandson Robbie Jennings who passed in his third year of life (1985) with Cystic Fibrosis. Her only sibling Christine Raynor is living in Brookline, Mass.
Monica lived a full and colorful life. She loved tennis and golf and enjoyed weekly outings of bowling and playing cards with friends she holds close to her heart. She served as a volunteer coach of the Barrington Pop Warner cheerleaders and worked the concession stands at many of the football games in the 70s. Gardening was a passion of hers, with Gerber Daisies being among one of her favorite flowers. She had a deep love for all birds, especially Hummingbirds which flutter around the birdfeeder on her deck today. Until her battle with Cancer, Monica was an avid "yogi," leading a group in practice each week on Cape Cod. She traveled the world; however, the tranquility of Vermont always remained on the top of her list.
Most of all she loved her family and instilled a strong set of values that will serve them well. She will be forever in their hearts.
A Celebration of Monica's Life will be held with Calling Hours in the W. RAYMOND WATSON FUNERAL HOME, 350 Willett Avenue, Riverside, on Monday October 7, 2019 from 4-8 p.m. A Mass of Christian Burial will be held on Tuesday October 8, 2019 in St. Mary's Church, Wood Street, Bristol at 10 a.m. Burial will follow in the North Burial Ground Cemetery, Bristol.
In lieu of flowers, her wishes were to support the Dept. of Oncology at Rhode Island Hospital, 593 Eddy Street, Providence, RI (attention Dr. Khurshid) or Hope Hospice & Palliative Care Rhode Island, 1085 North Main Street, Providence, RI 02905.