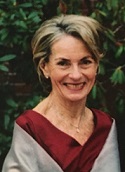 Date of Passing:
August 29, 2016
Grossman, Nancy C., 77, of Village Green North, Riverside, died unexpectedly on August 29, 2016. She was the former wife of Charles S. Grossman.
Born in Syracuse, NY, she was the only daughter of the late Hugh Cassidy and Evelyn (Renier) Cassidy Smith. A graduate of Le Moyne College in Syracuse, she lived in Riverside for 24 years previously residing in Seekonk, MA.
Mrs. Grossman worked as research assistant at Brown University for 15 years before retiring. Before raising her children she had been a French teacher at East Providence High School.
Nancy enjoyed reading, art, travel, gardening and spending time with her loving grandchildren.
She is survived by a son, Charles H. Grossman and his wife, Allison (Fennell), of Newburyport, MA; a daughter, Cara L. Groomes and her husband, Benghi J. Groomes, of Springfield, MA and three grandchildren, Charles H. Grossman Jr., Brendan F. Grossman and Callie J. Groomes.
Her funeral will be held on Thursday September 8, 2016 from the W. RAYMOND WATSON FUNERAL HOME, 350 Willett Avenue, Riverside at 8:45 a.m. with a Mass of Christian Burial in St. Luke Church, Washington Road, Barrington at 10 a.m. Burial will follow in Gate of Heaven Cemetery. A reception will follow at The Wharf Tavern in Warren. Calling hours are Wednesday 5-8 p.m. In lieu of flowers, donations may be made to Progeria Research Foundation.