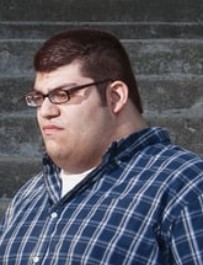 Date of Passing:
December 15, 2022
Nicolis Jordan Garcia, of North Providence, known as "Nicky" to his family and friends, age 27, left this earth on Thursday, December 15, 2022.
Nicky's life would seem too short to many, but those who were touched by him understand that the quality of his life far exceeded the quantity. His gentle smile and wonderful sense of humor could melt the hearts of those around him.
He is survived by his mother Zulma Valenzuela; his father Jose Garcia; his brother Zachary Garcia; and sister Rogelia Lugo.
Nicky was a graduate of Mount Pleasant High School class of 2016. He was one of the founding members of the Mount Pleasant Unified Basketball Team, where he helped lead his team to the championship game in 2014. He excelled in his post high school endeavors, upon completion of the Project Search program at The Miriam Hospital; he was hired by the hospital and served as a Transporter from 2016 through April of 2022. He enjoyed video gaming, drawing and above all had passion for wrestling. He loved listening to music; he was a "foodie" and enjoyed dishes created by his favorite chef, his brother Zachary. His favorite vacation spot was Walt Disney World, which he visited several times during his lifetime.
In addition to his parents and siblings, he is survived by his maternal grandmother Candida Valenzuela and paternal grandparents Gloria and Manuel Carvalho; his maternal aunt and uncle Brenda Valenzuela and Ramon Jimenez; and his paternal aunts and uncles, Luis A. Aponte, Alberto Aponte-Cardona, Angelo Garcia, Roberto Garcia, Michele Aponte, Gwendolyn Buckley-Andrade, and Claudia Cardona as well as numerous cousins and close friends.
A memorial service will be held in honor of Nicolis on Tuesday, December 27, 2022 from 10:00 AM to 12:00 PM at the Redwood Chapel, Swan Point Cemetery 585 Blackstone Boulevard, Providence, Rhode Island 02906.
In lieu of flowers, the family is asking that contributions be made to the Mount Pleasant Unified Basketball Team. Please make checks or money orders to:
Mount Pleasant High School
Memo: Unified Basketball Team
Mail to: 434 Mount Pleasant Avenue, Providence, RI 02908
Attention: Coach Pinto