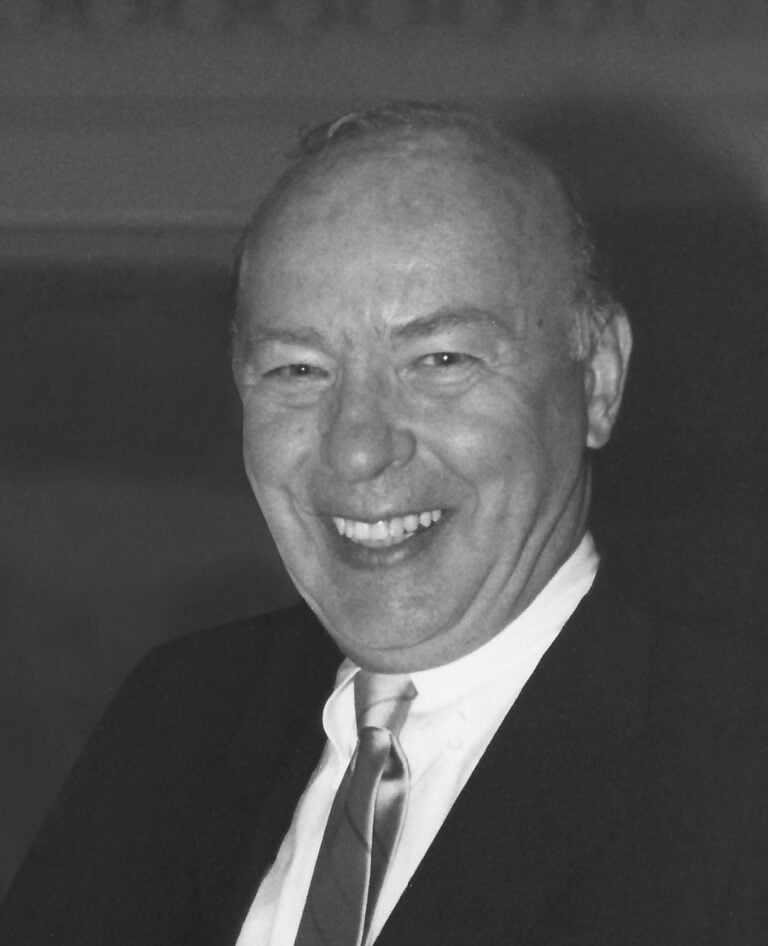 Date of Passing:
January 27, 2022
Ogden M. Dodge, 90, of Riverside, formerly of Barrington, died Thursday, January 27, 2022, at HopeHealth Hulitar Hospice Center in Providence. Born in 1931 in Worcester, MA, son of Raymond and Gladys (Conway) Dodge, Ogden graduated from Auburn High School in Auburn, MA, and St. Michael's College in Colchester, VT. Following his graduation, he began his career in the Vicks Executive Development Program in New York City, and became a copywriter at Morse International, Inc. Vicks' in-house advertising agency. He returned to Massachusetts in 1960 when he accepted a position as Advertising Manager, Consumer Products at the Dennison Mfg. Co. in Framingham, MA. In 1963, Mr. Dodge joined Horton, Church & Goff, a Providence advertising agency and moved his family to Barrington.
In 1980, he fulfilled a professional dream when he opened his own ad agency, Dodge Associates, Inc. where he would work until his retirement in 1997. Some of Ogden's work as a writer is still in use today, including his personal favorite, "Warm Thy Neighbor", which he wrote for the Good Neighbor Energy Fund.
Throughout his career, Ogden was active in the business community. He served as a member of the Board of Directors of the Worcester Science Center, the Public Utilities Communicators Association, and the RI chapter of the Salvation Army, among many other positions. He was also a past President of the Providence Ad Club.
Mr. Dodge was a Veteran of the Korean War, having served as a Battery Executive Officer and Forward Observer with the 937th Field Artillery Battalion, the famed "Arkansas Long Toms".
A devout Catholic, he was an active member of St. Luke's Church in Barrington for 58 years, serving in many roles including Eucharistic Minister, Religious Education Teacher, and Chairman of the Catholic Charity Fund Appeal for St. Luke's. He was especially proud to serve as a Lector at St. Luke's for over 50 years. In his retirement he enjoyed many years of fun and friendship in the St. Luke's golf league.
Ogden's life centered around family. He loved a good gathering and was often the one leading the conversation with his entertaining storytelling and wonderful sense of humor. His hobbies included golf, watercolor painting, and gardening. A beach lover, he enjoyed his time with family and friends in Little Compton and Sarasota.
He leaves his beloved wife of 63 years, Kathleen Ann "Kay" (Dolan) Dodge, and four children, Julie Dodge Wiseman of Riverside, Ogden Dodge Jr. (Jacqueline) of Rumford, Andrew Dodge (Heather) of Freeport, ME, and Elizabeth Dodge Olson (Perry) of Bristol. He also leaves nine grandchildren, Caroline Deja (Greggory), Kathleen Generazio (Richard), Samuel Dodge, Madeline Danz (Alec), Henry Dodge, Phoebe Dodge, Jackson Dodge (Faith), Thomas Dodge, Ramsey Dodge, and seven great grandchildren, Christopher, Samantha, Theodore and Benjamin Deja, Louis Generazio, Owen Danz and Fiza Dodge.
Ogden was the brother of the late Conway Dodge (the late Linda Dodge) of Dayville, CT, Nancy Fistori (the late Paul Fistori) of Mattapoisett, MA, Priscilla Hesford (John) of Charlottesville, VA, Susan Dentch (Milton) of Shrewsbury, MA, and Raymond Dodge (Marlene) of Holden, MA. He was a beloved uncle of 41 nieces and nephews.
His Funeral will be held on Friday February 4, 2022 from the W. RAYMOND WATSON FUNERAL HOME, 350 Willett Avenue, Riverside at 9:45 a.m. with a Mass of Christian Burial in St. Luke's Church, 108 Washington Road, Barrington at 11 a.m. Calling hours will be held on Thursday February 3, 2022 from 4-7 p.m. Burial will follow in Forest Chapel Cemetery, Nayatt Rd., Barrington. In lieu of flowers, donations to The Good Neighbor Energy Fund/United Way RI (https://www.unitedwayri.org/gnef/) would be appreciated.