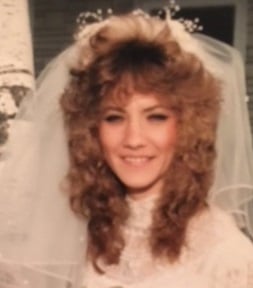 Date of Passing:
February 22, 2018
Patricia G. (Tirrell) Baptista "Trish" 52, of Estrell Drive, Riverside died on Thursday, February 22, 2018 at Rhode Island Hospital, Providence after a courageous and valiant battle with lung cancer. She passed away peacefully surrounded by her devoted family.
A lifelong resident of Riverside, she was the beloved wife of Ronnie Baptista, married for 17 years. Born in Anaheim, California on May 5, 1965, daughter of Gioconda "Gia" (Corazza) Tirrell and the late Charles E. Tirrell.
Trish had been employed by Blue Cross for 25 years in the Department of Correspondence and Appeals until her illness. She was a member of the Blue Cross Association and a volunteer for the Stephen Shaw Road Race. She cherished spending time with her family, especially in the backyard and in the pool.
Trish loved animals especially her two dogs Chico and Tasha. She also enjoyed going to casinos, concerts and cruising with her husband and friends.
Besides her husband and mother she leaves her children, Renee Tirrell and her husband Joshua R. Bernardini, Andrew R. Baptista and Gianna E. Baptista, a sister Dorina A. Igo and her husband Joseph V. Igo, a granddaughter Riley Q. Tirrell, a brother-in-law Kevin A. Baptista and his wife Helen Mortensen-Baptista, a mother-in-law Elizabeth "Betty" A. Baptista and several nieces and nephews.
Her funeral will be held on Thursday, March 1, 2018 from the W. RAYMOND WATSON FUNERAL HOME, 350 Willet Avenue, Riverside at 8 a.m. with a Mass of Christian Burial in Our Lady of Holy Rosary Church, Traverse Street, Providence at 10 a.m. Burial will follow in Gate of Heaven Cemetery, East Providence. Calling Hours are Wednesday 5-8 p.m.
In lieu of flowers contributions in her memory may be made to RISPCA, 186 Amaral Street, Riverside, RI 02915.