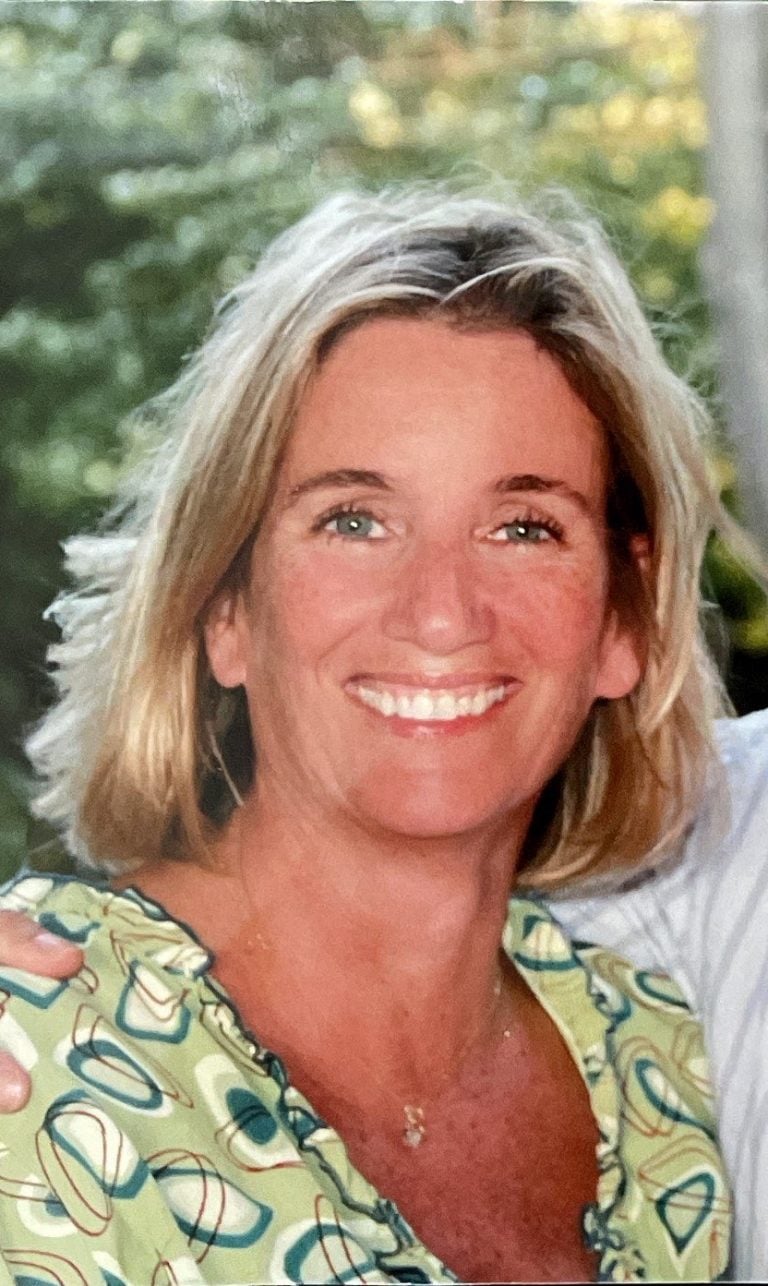 Date of Passing:
July 3, 2021
Patricia McGinn Mitchell of Warren, RI, died peacefully on Saturday, July 3, 2021. Born on August 7, 1963, Patti was the daughter of Eileen O'Grady McGinn and Frank D. McGinn, Jr. Patti was also the beloved wife of Roddy Mitchell.
As a child, Patti delighted as much in the winter ski trips taken with her parents and siblings in Northern New England as in the summer vacations spent at their beach house in Bonnet Shores. As an adult, Patti was a bona fide beach bum. A day together with her children at the Kendbrin Swim Club was a perfect day for Patti. She was immensely happy reading a Danielle Steele novel under a beach umbrella, and a certified fan of sunning in the Caribbean or Italy (or Ireland, in between the clouds). She loved adventures with her Ya-Yas (the loudest group at any restaurant they visited) which generally included too many Martinis and, in a good case scenario, Swedish fish. In order to prove she was no slouch, Patti also made sure to complete a triathlon in 2004, in dedication to her recently deceased mother.
Patti's smile, kindness, and love of laughter charmed all who met her, but most of all Roddy. In 1979, Roddy risked asking Patti to the Barrington High School Holiday Dance. She said yes. It was the start of their wonderful life together: full of travel, bicycling, moving from one house that Roddy made to another (all in Barrington, before finally landing in Warren), and raising two sons.
Patti graduated from Pine Manor College and later received a Master of Arts in Teaching from Rhode Island College. She was immensely fond of teaching at the Lincoln School in Providence, as well as in the East Providence and Barrington school districts, but her greatest joy was her family.
Besides her husband Roddy, Patti is also survived by her son Benjamin Mitchell (and partner Madison Philipp) of Warren, RI; her son Patrick Mitchell (and fiancée Francesca Bernardo) of Allentown, PA; her siblings Frank D. McGinn, III, (husband Thomas) and Mae McGinn Kurkoski (husband Mark); her brother-in-law Alexy Mitchell (wife Laura); her sister-in-law Juli Mitchell (husband Travis); her loving mother-in-law Janis "Mom" Sallinger (husband Greg) with whom much ice cream was eaten and many movies seen; her father-in-law Alan (wife MAK); her niece Maggie Kurkoski; her nephews Sam and Teddy Kurkoski, and Max and Toby Mitchell; her loving caregiver and angel Emma Chacon; and many other loving extended family members.
A Memorial Service will be held on Saturday July 10, 2021 at 11 a.m. in the W. RAYMOND WATSON FUNERAL HOME, 350 Willett Avenue, Riverside. Calling hours are Friday July 9, 2021 from 4-8 p.m.
Flowers are respectfully omitted. Contributions in Patti's memory to the Alzheimer's Association of RI, 245 Waterman Street, Suite #306, Providence, RI 02906 would be deeply appreciated.