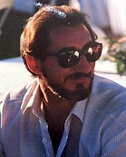 Date of Passing:
December 7, 2016
ARGENTIERI, PAUL LEWIS, formerly of Riverside, a Real Estate Broker for many years, died peacefully at home on November 15, 2016 surrounded by his family.
Born in RI, the son of the late Robert and Phyllis (Lewis) Argentieri, he resided in San Diego for over 35 years.
Mr. Argentieri was a graduate of East Providence High School, Providence College and Mesa College of San Diego. He owned and was the CEO of Co-Art, a graphic arts firm, Neptune Publishing and Pacific Commercial Corporation.
Mr. Argentieri was the author of several business manuals and editor of Karate Do Kyohan, master text of the way of the hand, a globally recognized book. He was the personal chef to the King and Queen of Sweden while they resided in Newport, RI. Mr. Argentieri was an extremely spiritual person and had a spiritual bond with many people.
Mr. Argentieri was a third-degree black belt in Karate and lived a very disciplined, loving life. His talents included drawing and painting. He played the drums and the trumpet.
He is survived by many close friends, a brother, Steven L. Argentieri and his wife Janice of East Providence, RI, a sister Jane Argentieri and her husband Vincent Santaniello of Exeter, RI and Englewood, FL, a nephew Steven R. Argentieri and his wife Sue of Stoughton, MA, and a niece Amanda Argentieri, currently of Shanghai, China.
His committal service will be held on Monday December 19, 2016 at 1:00 PM in the Gate of Heaven Cemetery Chapel, Wampanoag Trail, East Providence, RI. Contributions in Paul's memory may be made to Wounded Warrior Project, P.O. Box 758516, Topeka, Kansas 66675-8516.