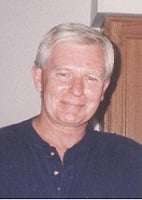 Date of Passing:
May 24, 2015
McShane, Paul, 62, of Wampanoag Trail, Riverside, died peacefully at home on May 24, 2015 surrounded by his loving family. He was the beloved husband of Geraldine 'Gerri' (Bernier) McShane.
Born in Lorgan County, Northern Ireland, a son of the late Charles and Nancy (Goodby) McShane, he lived in Riverside for 55 years.
Mr. McShane was a maintenance technician at the Atria Bay Spring Village, Barrington for 14 years.
Besides his wife of 25 years, he was the beloved step-father of Susan Shea and her husband Kevin and Stephen Kok, his beloved siblings, Mary Madden, Lori Prew, Patrick, Anthony, Joseph, Martin, Edward and Michael McShane and several nieces and nephews. He was the brother of the late Kevin and Shaun McShane.
His funeral service will be private.